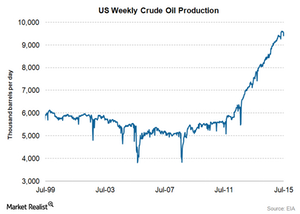 US Oil Output Downticks and Crude Oil Prices Fall
US crude oil production
The EIA (U.S. Energy Information Administration) reported that US crude oil production fell marginally by 145,000 bpd (barrels per day) to 9.413 MMbpd (million barrels per day) for the week ending July 24, 2015. Likewise, the US output fell slightly by 4,000 barrels to 9.558 MMbpd for the week ending July 17, 2015. The US weekly oil output fell for the fifth time in the last ten weeks. The current production is 11% more than the weekly production in July 2014 at 8.443 MMbpd.
Article continues below advertisement
Record production
The monthly US production was at 9.511 MMbpd in May 2015. The US monthly oil output was at 7.303 MMBpd in May 2014. The US production is at the highest level since the 1970s. After the financial crisis in 2008, the availability of cheaper credit facilities and technological advancement supported the mammoth rise in the US and Canadian oil production.
This led to the fall in crude oil prices. US crude oil prices fell more than 55% since the mid-week of June 2014. Lower crude oil prices impacted upstream players' margins like Apache (APA), Marathon Petroleum (MRO), and Hess (HES). These companies account for 13.40% of the Select Sector SPDR Fund ETF (XLE).
The long-term lower crude oil prices also impact oil and gas ETFs like the Select Sector SPDR Fund ETF (XLE) and the SPDR S&P Oil & Gas Exploration & Production ETF (XOP).
Along with record US production, Saudi Arabia and Russia are also producing crude oil at record levels. It's estimated that Saudi Arabia and Russia produced more than 10 MMbpd in July 2015. The consensus of rising crude oil production in Iran, Iraq, Brazil, and Canada will add more pressure to the crude oil market.
US oil inventories are at record levels since the 1980s. Global inventories show that the supply and demand gap could widen in 2015 and narrow in 2016. The rising global inventories will continue to put downward pressure on the crude oil market.
Despite the falling crude oil prices, the US crude oil rig count might continue to put pressure on crude oil prices.