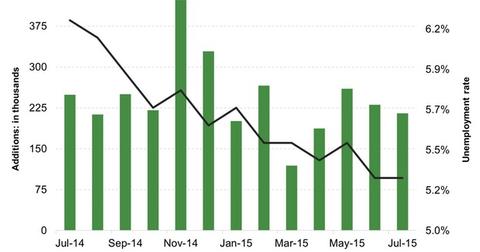 Is the US Economy at Full Employment?
By David Ashworth

Aug. 18 2015, Published 8:02 p.m. ET
What is full employment?
Theoretically, full employment refers to a condition in a labor market when all eligible people are employed except those who have quit, are in the process of changing their jobs, or are unemployed due to the unavailability of jobs that match their skills.
Maintaining economic conditions that foster maximum employment in the US economy is one of the two mandates of the Federal Reserve.
In the SEP (Summary of Economic Projections) released in June 2015, policymakers at the US central bank expect the central tendency on the longer-term unemployment rate to be between 5.0%–5.2%. In July 2015, the unemployment rate in the US stood at 5.3%. So, the US labor market is quite close to what central bankers consider to be full employment.
Article continues below advertisement
Job additions and unemployment rate
Job additions in the US have been quite strong for the past several months. From January 2014 until July 2015, there have been only four months in which nonfarm payroll additions have figured below 200,000.
In that period, the unemployment rate has come sharply down from a peak of 6.7% in February 2014 to 5.3% in July 2015. For your reference, the unemployment rate had surged to 10.0% in October 2009.
With more people working in a household, along with wage increases, people are more likely to spend on discretionary items and services produced and sold by companies like Walt Disney (DIS), McDonald's (MCD), Time Warner (TWX), and The Priceline Group (PCLN). These stocks make up ~17.4% of the Consumer Discretionary Select Sector SPDR ETF (XLY).
The Fed's view
In its July 2015 monetary policy statement, the Federal Reserve described the labor market: "The labor market continued to improve, with solid job gains and declining unemployment." With this statement, policymakers seem to be pleased with the progress in the labor market with respect to the decline in the unemployment rate.
However, there is some improvement in other metrics of the labor market. We'll look at that in the next article.