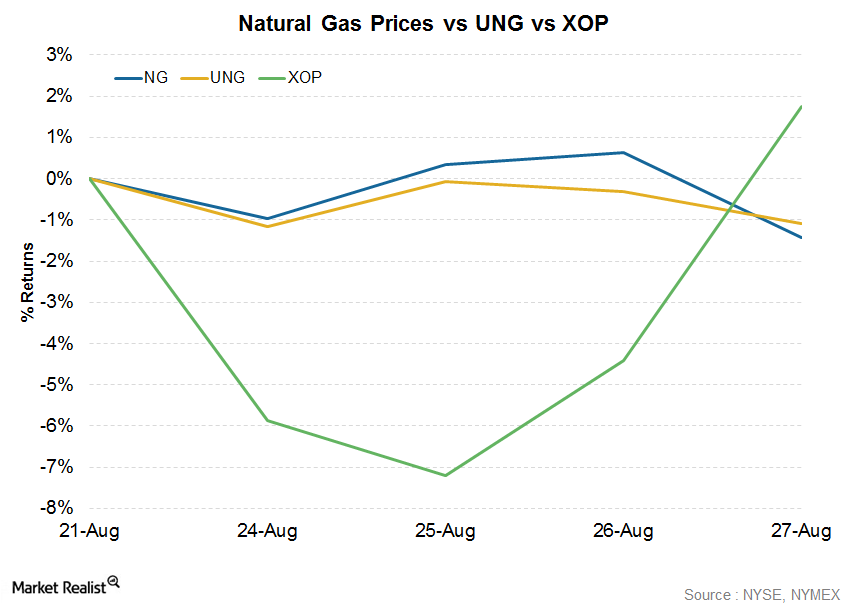 UNG Fell but XOP Spiked in the Week Ending August 27
Different approaches to natural gas
As we discussed in the previous part of this series, natural gas fell 1.42% between Friday, August 21, and Thursday, August 27. For retail investors who don't have easy access to the futures market, there are other safer, low-cost avenues for betting on natural gas prices.
One avenue is the United States Natural Gas Fund (UNG), an ETF that tracks prompt natural gas futures. UNG shares trade on the New York Stock Exchange like company stock. UNG fell 1.1% between August 21 and August 27.
Article continues below advertisement
XOP Spiked
Another avenue is the SPDR S&P Oil & Gas Exploration & Production ETF (XOP), which holds many US energy companies in its portfolio. Some of these energy companies have exposure to natural gas prices through their upstream gas production operations. Because of the indirect exposure to volatile natural gas prices, an ETF like XOP could be a safer, more diversified option for more conservative investors. XOP increased by ~1.75% between August 21 and August 27.
Comparing performances
As you can see in the above graph, UNG underperformed natural gas prices throughout the week, but it ended up higher than natural gas prices at the end of our weekly cycle.
XOP, on the other hand, was underperforming both natural gas and UNG for most of the week, but it spiked towards the end of the week, as we can see in the graph above, giving the highest returns in the group at the end of the week. The end-of-the week spike was triggered by a sharp rise in crude oil prices, which increased ~10.25% on August 27.
Follow our weekly analysis of crude oil price movements at Market Realist's Energy & Power page. Read the latest report at WTI Fell to Over-6-Year Lows Last Week: Are Lower Levels Coming?
XOP includes US natural gas producers such as Noble Energy (NBL), RICE Energy (RICE), and PDC Energy (PDCE) in its portfolio. Combined, these companies make up 2.4% of the ETF.
You can also gain indirect exposure to energy prices and steady income by investing in MLP ETFs such as the Alerian MLP ETF (AMLP), which holds large US midstream MLP companies such as Enterprise Products Partners (EPD).