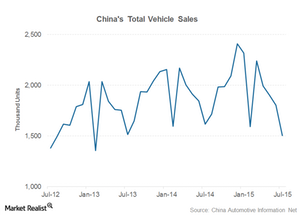 Understanding the Challenges Tesla Faces in China
By Mohit Oberoi, CFA

Sep. 7 2015, Updated 11:06 a.m. ET
Tesla's China challenge
As discussed previously, Tesla (TSLA) expects China (FXI) (MCHI) to be one of its key markets in the coming years. This is not surprising, given the massive opportunity in China. Although vehicle sales in China have slowed down in the last couple of months, as can be seen in the chart below, electric vehicle sales have been strong.
China is among the key markets for automakers including Ford (F) and Tata Motors (TTM).
Article continues below advertisement
According to Clean Technica, electric vehicle sales rose 120% year-over-year in China in 2014. Apparently, this is even higher than the growth rate in EV sales in the US. However, Tesla has not been able to penetrate the China EV market. Let's discuss the possible reasons and the measures Tesla is taking to overcome these challenges.
Perception problem
During the 4Q14 earnings conference call, Tesla CEO Elon Musk stated, "The biggest issue which we're still fighting to address is this perception that it is difficult to charge your car in China. This is false. It is not difficult to charge your car in China. Unfortunately, this sounds kind of brain-dead, but our sales team was telling people that it was difficult to charge in China, even though this is not true."
However, the perception problem seems limited to Tesla, as overall EV sales have been strong in China.
According to a Wall Street Journal report citing Chinese media, Tesla slashed 30% of its workforce in China earlier this year. Clearly, something isn't going right for Tesla in China.
However, Tesla maintains that its long-term fundamentals in China remain strong. The company has also made some changes in its China strategy, as we'll explore in the next part of the series.