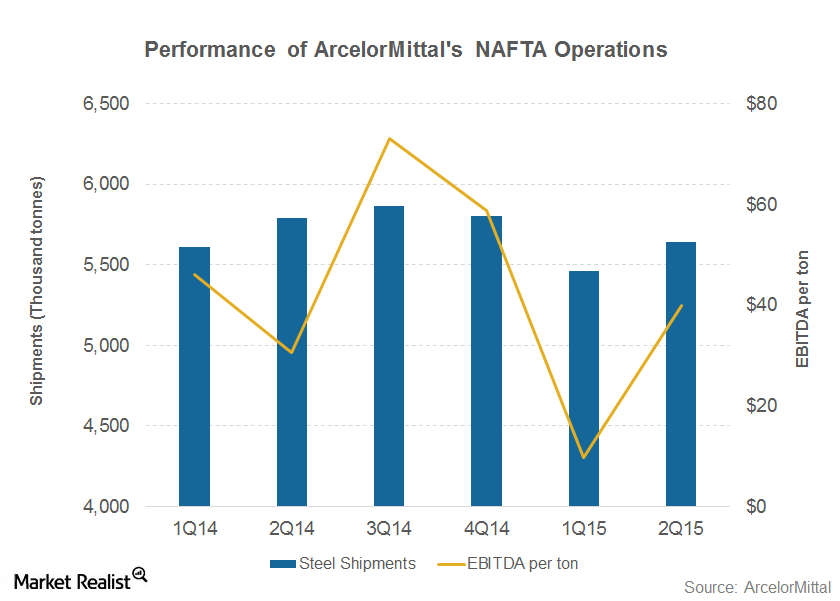 Understanding ArcelorMittal's 2Q15 NAFTA Performance
By Mohit Oberoi, CFA

Aug. 10 2015, Updated 11:06 a.m. ET
ArcelorMittal's 2Q15 NAFTA performance
North American Free Trade Agreement (or NAFTA) operations account for almost a quarter of ArcelorMittal's (MT) revenue. Its financial performance in the NAFTA region has been disappointing for the last few quarters. In this part, we'll analyze the 2Q15 financial performance of ArcelorMittal's NAFTA operations.
Article continues below advertisement
NAFTA profitability improves?
ArcelorMittal's steel shipments in the NAFTA region declined 2.5% year-over-year in 2Q15. You can see this development in the chart above. Its EBITDA (earnings before interest, taxes, depreciation, and amortization) increased more than 27% over this period. Please note that ArcelorMittal's EBITDA in 2Q14 was hit by $90 million on account of the settlement of a US antitrust litigation. Moreover, ArcelorMittal's NAFTA earnings in that quarter were negatively affected by ~$150 million due to adverse weather conditions.
Excluding the impact of the above-mentioned special items, ArcelorMittal's 2Q15 EBITDA actually fell compared to the last year.
US steel production down
Steel production in the United States (VTI) fell ~7.7% year-over-year in the first seven months of 2015. Increased steel imports earlier this year and a resulting inventory spurt at metal service centers negatively affected steel demand.
Steel companies in the United States are suffering from a demand slowdown as steel demand from the energy sector has come down. To add to these woes, steel inventories rose significantly towards the end of last year. Metal service centers like Reliance Steel & Aluminum (RS) ordered more steel from overseas producers to take advantage of lower prices.
Together, Reliance Steel and Allegheny Technologies (ATI) form ~9.1% of the SPDR S&P Metals and Mining ETF (XME).
In the next part of this series, we'll look at the 2Q15 performance of ArcelorMittal's Brazilian operations.