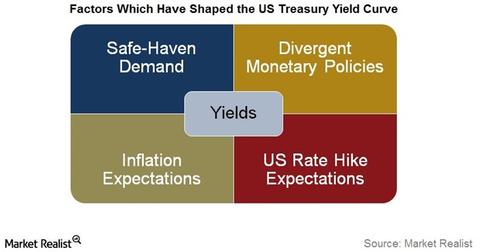 Why Is the Treasury Yield Curve Getting Flatter?
By David Ashworth

Aug. 27 2015, Published 12:02 p.m. ET
Safe-haven demand
U.S. Treasuries are considered safe-haven assets. That means investors consider U.S. Treasuries the preferable investment option when unfavorable events occur.
A rise in demand makes yields on fixed-income instruments fall. This is because prices on bonds rise in response to increased demand, and prices and yields have an inverse relationship.
This was the primary reason for the fall in long-term Treasury yields earlier this year. A lot of uncertainty gripped the financial markets, and investors were looking for safety. Some of this demand came back when uncertainty regarding Greece's (GREK) bailout took hold.
Article continues below advertisement
Different monetary policies
A difference in monetary policies among the United States and advanced regions like the Eurozone and Japan was another reason investors were attracted to U.S. Treasuries. Due to monetary easing, yields on bonds of advanced nations fell to low levels, which made the comparatively high levels of U.S. Treasuries attractive. This led investors from other countries to buy long-term Treasuries, which resulted in the yield curve getting flatter.
Expectation of a rate hike
Currently, the yield curve has flattened due to mixed readings by market participants. Some are expecting a rate hike in 2015 and thus have moved away from short-term Treasuries (SHY). Short-term Treasuries are directly impacted by a rise in rates. They've moved into other investment avenues, including medium-term Treasuries (IEF) and corporate bonds issued by companies such as CVS Health (CVS), Wells Fargo (WFC), PepsiCo (PEP), and several others.
At the same time, yields on longer-term Treasuries have fallen since a fall in commodity prices has lowered the outlook on inflation. This makes longer-term Treasuries attractive, as a high rate of inflation eats into returns of long-term bonds.
Spreads have begun to fall again. We'll look at that more closely in the next article.