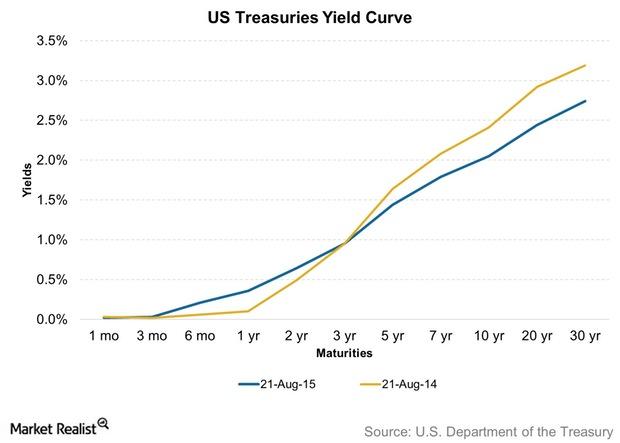 Is the Treasury Yield Curve Getting Flatter?
By David Ashworth

Aug. 27 2015, Published 1:02 p.m. ET
What is a flattening yield curve?
A flattening yield curve is a situation in which the difference between yields of short and long maturity securities has reduced from its historical trend. In a healthy economy, a yield curve is positively sloping. That is, yields rise as the maturity of the bond increases.
So the yield on a ten-year security would be higher than on a two-year security. This is so because investors need to be compensated for investing in the long term. An uncertain future always makes longer-term securities riskier than shorter-term securities.
Extending this logic, a flattening yield curve shows that investing in longer-term bonds isn't compensating investors for the additional risk as much as it used to.
Article continues below advertisement
US Treasury yield curve getting flatter
As you can see in the above graph, the U.S. Treasury yield curve is flatter than it was a year ago. Short-term bills and notes (SHY) yields, except on the one-month bill, have risen from a year ago. Yield on the one-year bill was up 26 bps (basis points) from the same time a year ago.
From there on, the difference in yields falls, with yield on the three-year note being unchanged from last year. Yields continue falling, peaking at a difference of 48 bps at the 20-year bond (TLT) from a year ago.
What does it mean for you?
For investors, a study of a change in yield curve and spreads between various maturities can give insights into opportunities in the fixed-income market. For corporates issuing high-grade bonds, the yield curve getting flatter can lead to issuance of longer-duration bonds.
Recently, companies such as Celgene (CELG), Intel (INTC), and UnitedHealth Group (UNH) have issued a sizable portion of their high-grade bond issues in the ten-year maturity and above category.
In the next article, we'll see why the U.S. Treasury yield curve is getting flatter.