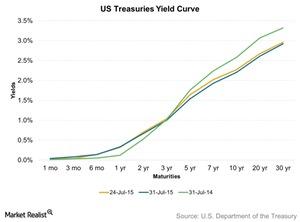 Treasury Prices Rally on the Slowest Labor Cost Growth Data
Secondary market
Treasury yields fell at the intermediate and long end of the yield curve in the week ending July 31, 2015, due to the slowest rise in wage data since 1982. Wage data are a key factor for the rise in the interest rate by the Fed.
The fall was in the range of 3–10 bps (basis points) from two to 30-year maturity securities. The highest fall in yields was seen on the five-year note. Yields fell by 10 bps from the previous week and ended at 1.54%. Yields on the benchmark ten-year note ended at 2.20%—down 7 bps from the previous week.
Article continues below advertisement
Fed's meeting
Treasury yields rose after the Fed's monetary policy statement on July 29. Fed policymakers said that they would be ready to raise rates when there had been "some further improvement in the labor market" and when they're "reasonably confident" that inflation is moving towards 2%.
Earlier in July, Fed Chair Janet Yellen said that she expects to raise borrowing costs in the US before the end of the year.
This year, the Fed is scheduled to meet in September, October, and December. Yellen has indicated that rates can rise in any of these three meetings.
Economic indicators
A series of economic indicators were released last week. However, the most important were the ECI (employment cost index), the 2Q15 GDP (gross domestic product) data, and personal consumption data.
The ECI is the broadest measure of wage growth. It only rose by 0.20% in this quarter—the slowest pace on record since 1982. This data may cause a delay in the likely rise in borrowing cost by the Fed. The unexpected slowdown in the labor cost comes despite large companies like Walmart (WMT), McDonald's (MCD), and Target (TGT) increasing their employees' salaries.
However, GDP—the total amount of goods and services produced in the economy—grew at a 2.30% pace in the second quarter backed by strong consumer spending data.
Investment impact
The fall in Treasury yields across intermediate and long maturities led to a rise in associated mutual funds, as prices and yields are inversely related.
The T. Rowe Price GNMA (PRGMX) rose 0.27% for the week. The American Century Ginnie Mae A (BGNAX) rose 0.43% for the week ending July 31.
A host of Treasury note, or T-note, auctions took place last week. T-notes worth $105 billion were auctioned in the primary market. We'll discuss them in more detail. We'll start with the auction for seven-year T-notes.