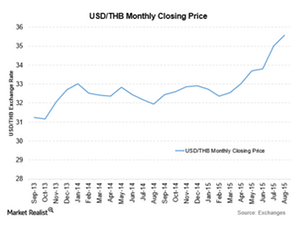 The Thai Baht Falls to a 6-Year Low against the US Dollar
By David Meyer

Aug. 20 2015, Published 12:50 p.m. ET
Thai baht fall triggered by disappointing growth, attack on capital
The Thai baht weakened against the US dollar for the third continuous session on August 17, 2015, on lower-than-expected gross domestic data or GDP for the second quarter. The baht, like most of its Asian peers, has been under pressure since the devaluation of the Chinese yuan was announced last week. Also, a bombing at the capital, Bangkok, caused local equity markets to fall on speculation that the attack could hit tourism in the country. The Thai baht ended on a six-year low against the US dollar.
Article continues below advertisement
Second quarter GDP releases below forecasts
Thailand released its GDP growth at 2.8% for the second quarter this year over the same quarter in the previous year. Declining exports, which account for two-thirds of the GDP, were responsible for hampering growth in the economy. Increased spending by the government and an increase in tourism couldn't help stimulate sufficient growth in the Thai economy.
Impact on the market
A major sell-off occurred in exchange-traded funds like the iShares MSCI Thailand Capped ETF (THD), which ended the day at -2.19%. The iShares MSCI Emerging Markets Asia (EEMA) also ended on a negative note at -1.15%.
Looking at American depository receipts (or ADRs), we see that travel and leisure companies China Easter Airlines (CEA) and Guangshen Railway Company Limited (GSH) fell 0.08% and 1.23%, respectively. Qunar (QUNR), on the other hand, gained 3.24% at the end of the day.