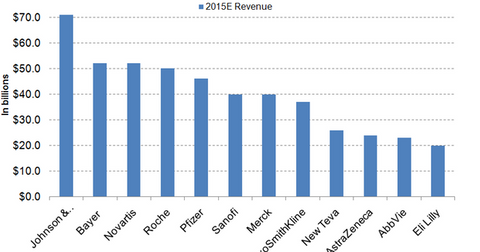 Teva Announces Its Acquisition of Allergan Generics
By Margaret Patrick

Aug. 3 2015, Published 3:01 p.m. ET
Teva–Allergan Generics acquisition
On July 27, 2015, Teva Pharmaceutical Industries (TEVA) announced its acquisition of the Generics business of Allergan for $40.5 billion in cash and shares. The consideration should comprise $33.75 billion in cash and $6.75 billion in Teva shares.
With a market capitalization of $68.3 billion, Teva is the largest generics manufacturer in the world. Allergan ranks third in the global generics business and has a market capitalization of $133.4 billion.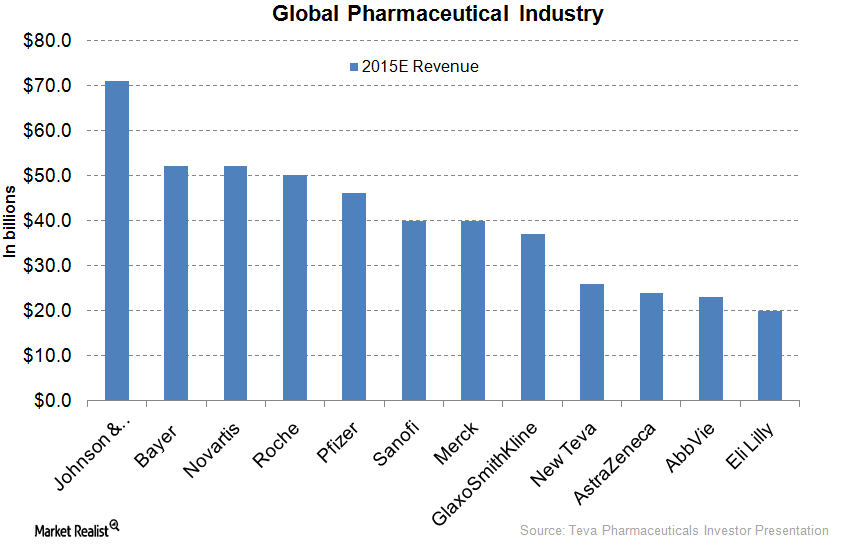 Article continues below advertisement
Considered to be the biggest-ever deal in Israel, this acquisition should make Teva one of the top ten global pharmaceutical companies. As the chart above indicates, Johnson & Johnson (JNJ) leads the global pharmaceutical arena with estimated 2015 revenues of $71 billion. Johnson & Johnson is followed by Bayer and Novartis (NVS), with estimated 2015 revenues of $52 billion each.
Roche and Pfizer (PFE) rank fourth and fifth and are expected to earn $50 billion and $46 billion in revenues, respectively, in 2015. Based on 2015 revenues, the new Teva entity is expected to rank ninth among the top ten global pharmaceutical companies after the acquisition of Allergan Generics.
Teva overview
Headquartered in Israel, Teva Pharmaceutical Industries is a leader in the global generics pharmaceutical industry. The company has offices in 60 countries across the world and manages a portfolio of more than 1,000 drugs. Teva offers branded and unbranded generic drugs as well as specialty products.
The company is also involved in the production of active pharmaceutical ingredients (or APIs). In 2014, Teva earned total revenues of about $20 billion and employed 43,000 people worldwide. The company has also entered into a joint venture with Procter & Gamble, which owns 51% of the venture.
Allergan overview
With its corporate headquarters in Dublin, Ireland, Allergan has evolved through a series of mergers and acquisitions. Previously known as Actavis, the company acquired Allergan in March 2015, assuming the name of the acquired entity. With its administrative headquarters located in Parsippany, New Jersey, Allergan manufactures generic and branded pharmaceutical products. Employing about 21,600 people, Allergan registered revenues of $13 billion in 2014.
Investors can avoid company-specific risks and take a diversified exposure to Allergan by investing in the Health Care Select Sector SPDR ETF (XLV). Allergan accounts for 4.82% of XLV's total holdings.