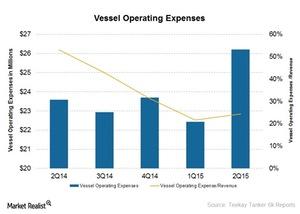 Why Have Teekay Tankers' Vessel Operating Costs Risen?
By Sue Goodridge

Aug. 28 2015, Published 9:59 a.m. ET
Vessel operating expenses
For crude (DBO) tanker companies like DHT Holdings (DHT), Teekay Tankers (TNK), Euronav (EURN), Nordic American Tanker (NAT), and Tsakos Energy Management (TNP) vessel operating costs include crewing, repair and maintenance, insurance, stores, and communication expense. Teekay Tankers' vessel operating expenses for 2Q15 were $26.2 million—compared to $22.44 million in the last quarter and $22.58 million in 2Q14.
Article continues below advertisement
EBITDA
The vessel operating expenses are mostly fixed expenses. So, as the revenue rises, the ratio of vessel operating expenses to revenue should fall. Vessel operating expenses were 24% of the revenue in 2Q15—compared to 53% in same period last year. This substantial fall is positive for the company's margins. However, this ratio has risen compared to 21% in 1Q15. As a result, the company's EBITDA (earnings before interest, tax, depreciation, and amortization) has fallen to $58 million from $59.3 million in the last quarter.
Operating cash flow
Over a period of time as the revenue rose, the operating cash flow also increased. In 2Q14, the company had a negative cash flow from operation of $0.2 million. It was $47.2 million in 2Q15. It was also higher than $39.7 million in 1Q15.
The company has planned for around ten vessels to be dry docked in 3Q15. The cost for dry docking vessels depends on their age and the necessary modifications that need to be done. Management expects that these expenses will be $1.5–$2 million for each vessel for some of the older vessels. We believe this will have a negative impact on the cash flow operations in the coming quarter.