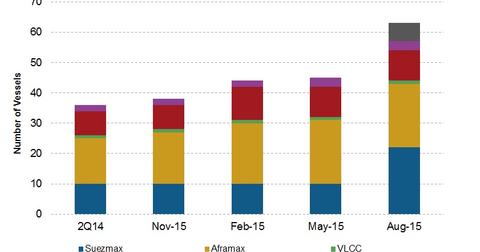 Teekay Tankers' Outlook on the Oversupply of Crude Tankers
By Sue Goodridge

Updated
Secondhand vessel
The crude (DBO) tanker industry has experienced robust tanker rates this year. The rates are almost double the numbers recorded last year. Typically, it has been observed that when tanker rates are rising or are at a peak, the tanker values rise. However, many companies buy vessels when they have a positive long-term outlook. Companies prefer secondhand vessels that can be put to use immediately. Teekay Tankers (TNK) has gradually increased its fleet to take advantage of the strong tanker rates.
Article continues below advertisement
Fleet data
Teekay Tankers has gradually and consistently increased its tanker fleet. Recently, through acquisitions, the company has increased its fleet from 33 to 63. It added 12 Suezmax vessels that more than doubled its own Suezmax fleet. The company's fleet addition may stop for at least the next two quarters. Teekay Tankers has suggested that its main focus will now be on getting the vessels fully operational by 4Q15. They will integrate these acquisitions into their business.
Comparison with peers
The tanker rates started to fall at the end of July. The company expects that the rates will remain at lower levels for this quarter before they start rising again in the last quarter. VLCC (very large crude carrier) rates have fallen more than Suezmax and Aframax rates. Teekay Tankers has a higher number of Suezmax vessels. It won't be affected as much by this rate drop—compared to Frontline (FRO), DHT Holdings (DHT), and Euronav (EURN). They have a higher number of VLCCs in their fleet.
Also, product tanker rates are inching higher and higher. They're expected to be strong in the third quarter, unlike the crude tanker rates. This will have a positive impact on Teekay Tankers and Tsakos Energy Navigation (TNP). They operate in the product tanker segment.
Capacity growth
When the companies start buying new vessels in order to take advantage of rising tanker rates, there's always a possibility that the industry will experience an oversupply of crude tankers. Eventually, this pulls down the tanker rates. However, the company forecasts that the crude tanker fleet supply will remain low in 2015. In 2016, it forecasts that the Suezmax fleet growth could be 3.60%. The total crude tanker fleet is expected to grow by 4%. This is below the 5% average annual fleet growth experienced over the last decade. The company also stated that the outlook for 2017 is less certain because there's still room for more orders.