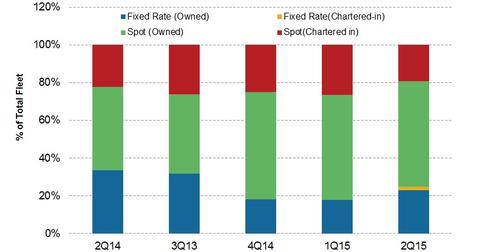 Teekay Tankers: Management's View on Spot and Fixed Contracts
By Sue Goodridge

Aug. 28 2015, Published 9:59 a.m. ET
Spot and fixed contracts
Teekay Tankers (TNK)—along with Frontline (FRO), Tsakos Energy Navigation (TNP), and DHT Holdings (DHT)—operates its vessels either in the spot market or time charter market. Spot contracts are for a short duration or a voyage from one port to another. Crude (DBO) tanker companies charge a spot rate prevailing in the market. Under time charter contracts, vessels are hired for a specific period that can last up to five to six years at a predetermined daily rate.
Article continues below advertisement
Company's spot exposure
With the recent Principal Maritime acquisition, Teekay Tankers' owned vessels on a fixed rate have risen from eight to 13. Similarly, owned vessels on a spot rate have risen from 25 to 32. The company's second acquisition was SPT. It gives the company the chance to operate its six support vessels in the spot market. The company's total spot exposure will now be 78% of its total fleet—compared to 82% in the last quarter.
Time charter length
After the time charter contract is rolled out, the company can either operate the vessel on a voyage basis that's in the spot market or enter into a new time charter contract. Out of the company's 12 charter-in vessels, two of them will end service in 4Q15 while four more will end in 2016. The company has contracts on five vessels that will end in 2017. Among these vessels, four vessels have the option to extend the contracts until 2018.
In July 2015, the company entered into charter-out contracts for one LR2 and two Suezmax vessels for a period of 22 months and 24 months, respectively.
The road ahead
When tanker rates are high, a higher spot exposure may generate higher profit margins. Operating under fixed-rate time charters generally provides more predictable cash flows.
Since a few contracts are ending in 2015 and at the beginning of 2016, the company has an option to employ these vessels. During the conference call, management hinted that it could enter into mid-term time charters if it has attractive opportunities. To this end, it will consider employing around 20% and 30% of the fleet out on a fixed charter. We believe that with the company's stake in SPT—a relatively a stable business—and the increase in time charter contracts, Teekay Tankers' future earnings and cash flows will be relatively less volatile.