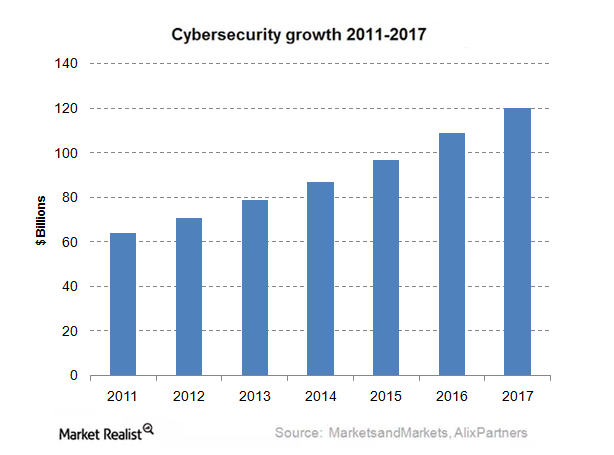 Symantec Is Upgraded to 'Hold' after Its Fiscal 1Q16 Results
Symantec is upgraded to "hold"
In the last part of this series, we discussed Symantec's (SYMC) disappointing fiscal 1Q16 results. Foreign currency exchange rates, especially the US dollar (UUP), impacted its growth in fiscal 1Q16. It also announced that the company finally got a buyer for Veritas—The Carlyle Group. The Carlyle Group will pay Symantec $8 billion for Veritas. All of these announcements hold a grain of hope for Symantec's investors. Their hopes got a boost again when Symantec's stock was upgraded to "hold" by Zacks Investment Research on August 17, 2015.
Zacks Investment Research shared its opinion that the sale of Veritas would provide Symantec with much-needed cash that will go a long way to boost its product pipeline and enhance its presence in the rapidly growing markets.
Article continues below advertisement
Cybercrime is a top law enforcement activity
The exponential growth in the number of cyberattacks and cyber threats has urged the FBI (Federal Bureau of Investigation) to label "cybercrime" as one of its top law enforcement activities. As a result, cybersecurity is drawing a lot of attention and funds from technology giants like Hewlett-Packard (HPQ) and Cisco (CSCO). According to MarketsandMarkets and as the above chart shows, the cybersecurity market is expected to grow at a CAGR (compound annual growth rate) of 11.30% and reach $120 billion between 2011 and 2017.
Cisco leads the network security space
According to a report from Synergy Research Group, Cisco led the worldwide network security market with a 30% market share in 3Q14. It's followed by Check Point Technologies (CHKP), Symantec, Huawei, Juniper Networks (JNPR), and Palo Alto Networks (PANW).
You can consider investing in the PowerShares QQQ Trust ETF (QQQ) to gain exposure to Symantec. QQQ invests about 0.32% of its holdings in Symantec.