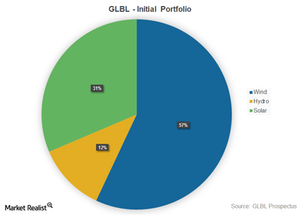 SUNE's TerraForm Global Goes Public, to Focus on Emerging Markets
TerraForm Global initial public offering
After launching TerraForm Power (TERP) in 2014, SunEdison (SUNE) launched an IPO of its much hyped emerging market yieldco, TerraForm Global (GLBL), in July 2015. GLBL raised $675 million in its IPO (initial public offering) completed on July 31 on the NASDAQ. GLBL sold 45 million shares at $15 each during the IPO. GLBL started trading on August 3.
Article continues below advertisement
Portfolio
GLBL's initial portfolio consists of 54 wind, hydro, and solar power projects with total capacity of 987.8 MW in Brazil, India (EPI), China, South Africa, and other developing economies in South America and Southeast Asia. Wind capacity dominates, with 57% of total capacity, followed by solar with 31.4%.
Plus, GLBL's ROFO (right of first offer) pipeline includes 49 projects with a total capacity of around 2.8 gigawatts (GW, 1 GW = 1,000 MW). The ROFO pipeline includes 534 MW in operational projects in Brazil and over 2.2 GW under development projects spread across emerging economies. All the company's projects under development are expected to go live by 1Q19.
Why is GLBL going global?
Emerging markets provide attractive growth opportunities for renewable energy project developers. According to Bloomberg New Energy Finance, solar and wind capacities in GLBL's target markets may grow at annualized rates of 31% and 13%, respectively, through 2020. India's government has announced a plan to have 100 GW in solar capacities by 2022 from the current 4 GW. FirstSolar (FSLR) and SunEdison (SUNE) have committed 5 GW and 15 GW of capacity additions in India over next five years, respectively.