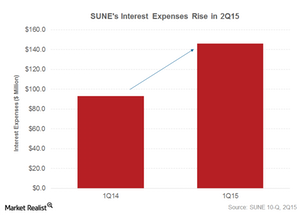 Why Did SunEdison's Costs Rise in 2Q15?
By Mike Sonnenberg

Sep. 1 2015, Updated 9:05 a.m. ET
Cost structure
Unlike FirstSolar (FSLR), which manufactures much of its solar panel requirements in-house, SunEdison (SUNE) procures its requirements from outside vendors such as Flextronics (FLEX). This difference results in quite dissimilar cost structure. A large part of FirstSolar's (FSLR) costs come under its cost of sales, while the majority of costs for SunEdison (SUNE) are divided between cost of sales and SG&A[1. Selling, general, and administrative expenses].
Article continues below advertisement
SunEdison's cost of goods sold (the cost of sales in FirstSolar's parlance) fell to $352 million in 2Q15 from $426 million in 2Q14. The change in business model to retain projects in order to drop them down to TerraForm Power (TERP) was the main reason for higher costs—as well as higher revenues—in 2Q14. The company reported a gross profit of $103 million—22.6% of sales—in 2Q15 compared to $5 million—1.2% of sales—in 2Q14.
Other operating costs
While SUNE's gross profit came in higher than FSLR's in 2Q15, the real catch was in the other operating costs, particularly "marketing and administration"[2. SG&A in common parlance] expenses.
SUNE's SG&A expenses increased to $259 million (57% of sales) in 2Q15 from $108 million (25.0% of sales) in 2Q14. Escalating costs at the renewable energy development segment were the key reason for the spike in costs. Increased employee expenses, operating expenses related to acquisitions, and expenses related to TerraForm Global's (GLBL) formation and initial public offering were the main drivers behind the increase in the segment's costs.
Interest expenses
While FSLR reported net interest income, SUNE's interest expenses increased to 32% of revenues in 2Q15. The company reported $146 million in interest expenses during the quarter against $93 million (22% of revenues) in 2Q14. The increase was on account of higher debt levels. The higher interest costs highlight the difference between the risk appetites of FSLR and SUNE. SUNE and FSLR are part of the Guggenheim Solar ETF (TAN) and the SPDR S&P500 ETF (SPY). FSLR and SUNE account for 8.3% and 5.0% of TAN's total holdings, respectively.