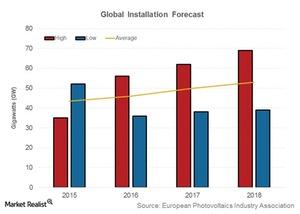 SunEdison or FirstSolar? Diversification or a Strong Focus?
FirstSolar (FSLR)
FirstSolar (FSLR) nailed its 2Q15 earnings. The company's focus on solar power differentiates it from SunEdison (SUNE), which also has a presence in wind and hydro power. A strong market position in the thin-film market along with a venture into crystalline photovoltaics endorses FirstSolar's commitment to solar energy.
We may see the company retaining more projects in the future to drop down to 8point3 Energy (CAFD), moderately leveraging its clean balance sheet. However, the company's balance sheet may remain strong. Companies with strong balance sheets bode well for conservative investors.
Article continues below advertisement
SunEdison (SUNE)
Transformation isn't new for SunEdison (SUNE). Previously a semiconductors manufacturer, the company shifted its focus to solar power a few years back. The company completely exited from the semiconductors business in 2Q15. Within the solar space, the company entered into the residential and commercial solar markets in 2013.
With the acquisition of First Wind, the company forayed into wind energy. With TerraForm Global (GLBL), the company is focusing on diversifying its geographical reach. SunEdison has shifted its focus to being a renewable energy company from a solar power company, and it has changed the name of its segment for this reason. We might not be surprised to see the company changing its name again to something more suitable for the transformed SunEdison.
With a diversified asset base spread across technologies and geographies, SunEdison (SUNE) has a lot to offer. However, high leverage and the high interest costs that come with it are making it hard for the company to appeal to a variety of investors.
SunEdison is certainly a riskier bet than FirstSolar (FSLR) but one with a possibility of windfall gains—yet only if the company manages its finances prudently.
The bottom line
FSLR and SUNE continue to diverge, with FSLR trying to achieve further backward integration into crystalline PVs while SUNE focuses on diversification. FSLR is conservative while SunEdison is aggressive. FSLR is essentially a solar (TAN) power company while SUNE is now a global renewable energy company. With the renewable energy market just heating up, how the battle between these titans plays out will be interesting to see.
For more interesting analysis, visit our solar page.