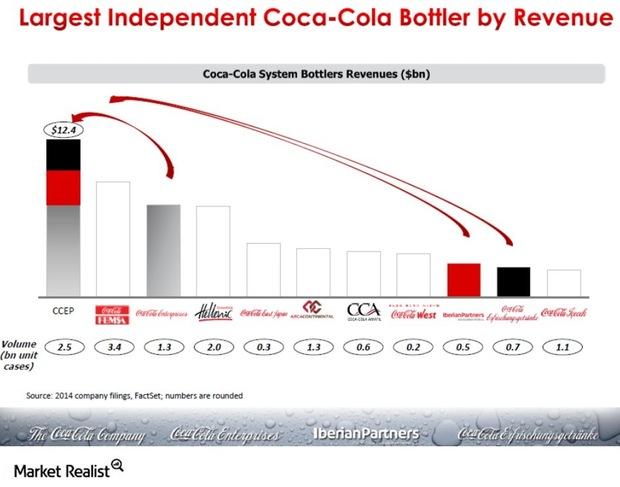 The Coca-Cola Bottler Merger's Strategic Benefits
By Phalguni Soni

Aug. 22 2015, Updated 4:06 a.m. ET
Potential benefits from the three-way bottler merger in the Coca-Cola network
As we discussed in the previous article in this series, three Coca-Cola bottlers—Coca-Cola Enterprises (CCE), Coca-Cola Iberian Partners (or CCIP), and Coca-Cola Erfrischungsgetränke AG (or CCEAG)—announced their intention to merge last week. The new company, Coca-Cola European Partners PLC (or CCEP), expects to realize significant synergies from the transaction.
Article continues below advertisement
Largest bottling company
Combined sales for the three companies are projected at ~$12.6 billion in 2015 on a pro forma basis. The new entity will displace Coca-Cola FEMSA (KOF) as the largest bottler in the Coca-Cola network in terms of revenue. However, KOF is still expected to be larger in terms of volume at 3.4 billion unit cases.
Besides the obvious increase in financial and operational scale, the merger is expected to benefit both the companies' top and bottom lines. The sales benefit is expected to be realized through the entity better aligning with customers' interests and giving the company flexibility to bottle and distribute faster-moving drinks categories.
As we discussed in Part 1 of this series, PepsiCo (PEP) purchased two of its bottlers, Pepsi Bottling Group (or PBG) and PepsiAmericas (or PAS), in 2010 in order to benefit from a flexibility advantage and quickly respond to market dynamics. The European and Russian operations of the two acquired bottlers are currently managed by PepsiCo Europe.
Article continues below advertisement
Market area
Plus, as we discussed earlier, the transaction should give the bottlers a larger contiguous sales area. This is important in the highly fragmented industry and may provide greater opportunities to increase sales.
Still beverages opportunity
Currently, CCE earns only about 13% of its revenue from still beverages. For CCIP and CCEAG, the percentages are 20% and 14%, respectively. This category will likely be an important sales driver, particularly in view of declining soda volumes in developed markets and the growth in the sales of energy drinks and noncarbonated beverages.
KO makes up ~1% of the iShares Core S&P 500 ETF (IVV) and ~1% of the holdings in the PowerShares S&P 500 Low Volatility ETF (SPLV).