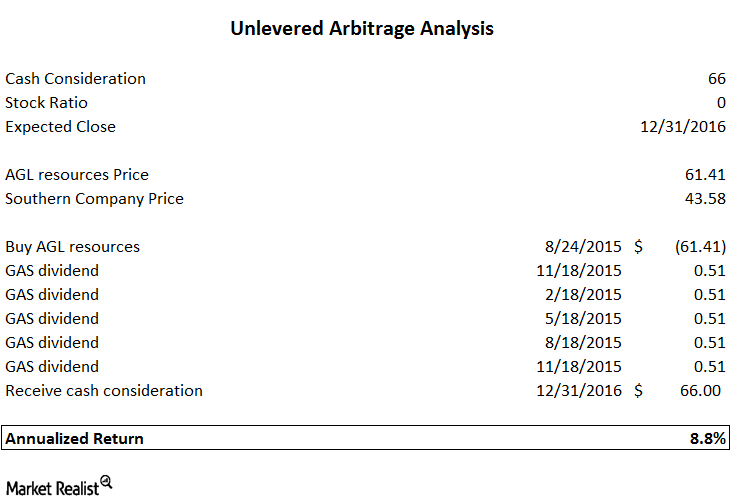 Southern Company Buys AGL Resources—Secures Gas Infrastructure
Merger arbitrage
To perform merger arbitrage, an investor will generally buy the stock of the company being acquired, sell short the relevant ratio of the acquirer's stock, if applicable, and wait for the deal to close. When the merger is completed, the investor will exchange the stock of the company being acquired for the deal consideration.
Article continues below advertisement
Southern Company gets bigger in natural gas
Given the new environmental regulations and the eventual pricing of carbon, utilities are working toward switching from coal to natural gas. By purchasing AGL Resources (GAS), Southern Company (SO) is moving in that direction. It's buying pipeline and distribution assets in its own backyard. To convert from coal to natural gas, utilities need infrastructure.
Southern is buying AGL Resources for $66 in cash per share. This is a 38% premium to AGL's closing price on Friday, August 21. Southern will issue stock and new debt to pay the merger consideration.
The combined company will be the second-largest US utility with 9 million customers. As natural gas displaces coal, gas will continue to be a growth area for utilities.
Doing the deal
The deal is subject to the customary closing conditions and regulatory approvals. According to the press release, the deal is expected to close in the second half of 2016. If you use a December 31, 2016, closing date, the spread is trading at just under 9% annualized. This is a wide spread, although the market turmoil as of late is probably contributing to it. While this is a utility deal and utility deals have long time frames, they generally are not super risky.
Other merger arbitrage resources