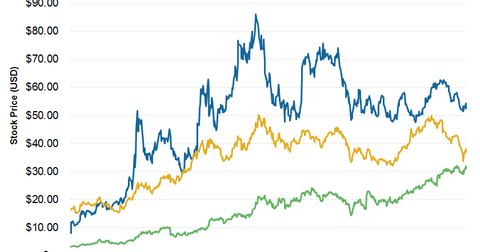 SolarCity's Potential on the Horizon
By Saania Malik

Sep. 15 2015, Updated 10:05 a.m. ET
Historical performance
In 2012, solar stocks saw a steep decline and sell-off due to industry-wide oversupply, which led to declining revenues and lower margins. But since then, most stocks have recovered. In concert with the industry-wide revision of solar stock prices, SolarCity's (SCTY) stock price gained 412% since December 2012, when it was at $8 per share, to $41 per share as of Aug 21, 2015. Over the same time period, industry peer SunEdison (SUNE) gained 236%, while the Guggenheim Solar ETF (TAN) gained 69%. Along with SunEdison, SolarCity represents one of the top few holdings—the second largest, in fact—in the Guggenheim Solar ETF, making up about 6%.
Article continues below advertisement
Due to the recent oil price decline, the industry has seen sell-offs in solar stocks, as was the case in mid-August 2015. In mid-July 2015, SunEdison's five-year price incline was 876%, while SolarCity's was 556%. This means that SolarCity saw less sell-off of its stock than SunEdison did. Nonetheless, SolarCity's stock price shows more volatility than SunEdison or TAN—a volatility also apparent in a comparison of SolarCity's five-year performance with the MAC Global Solar Energy Index.
Room for growth
While SolarCity's value has appreciated, its earnings have been consistently negative. Nonetheless, the company's recent investments may bring about a turnaround. Prior to 2014, SolarCity sourced all of its solar system components from outside suppliers. These former suppliers—for example, Canadian Solar (CSIQ) and Trina Solar (TSL)—rank at the top of all industry operators, based on their market shares and the industry-standard quality metrics set by the California Energy Commission. But by acquiring companies like Zep Solar and Silevo, SolarCity has now integrated further into the solar value chain, increasing its in-house manufacturing capabilities.
In addition, SolarCity's technology seems to be ahead of the competition in terms of innovation. Its proprietary energy storage product, DemandLogic (a collaboration with Tesla Motors), allows customers to reduce their demand during peak periods. This innovation has the potential to allow significant cost savings to customers.
With the company's recent focus on the residential market, SolarCity may be able to achieve higher margins and gain a firmer footing in the markets it serves. In 1Q13, for example, the company installed 33 MW (megawatts) of residential solar power, but in 1Q15, it installed 139 MW of residential solar power, a growth trend that has allowed SolarCity to gain almost 40% of the residential solar market share.
It remains to be seen if SolarCity can match its increasing market share with increased earnings.