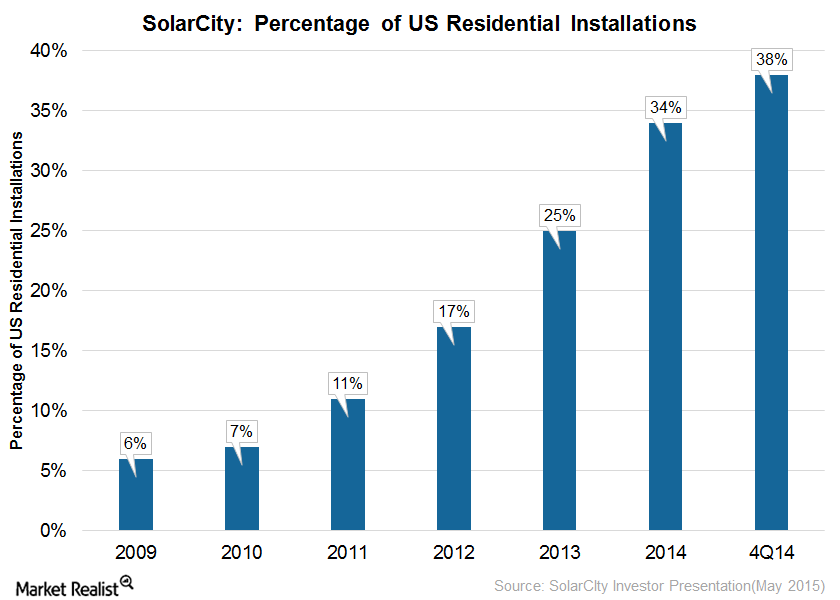 SolarCity's Innovations and Potential Future Leadership
By Saania Malik

Sep. 2 2015, Updated 9:06 a.m. ET
Future sales mix
While SolarCity's (SCTY) operating leases revenue stream has increasingly made up a larger proportion of its sales, management attention and resource allocation have not. The company continues to develop its solar energy systems and components stream, which generates less in revenues but also makes up a much larger proportion of the company's cost of revenues. So, in order to counter low margins, the company has been expanding into residential installations and scaling back government and commercial contracts.
Article continues below advertisement
In terms of megawatts, the company has increased its market share within the residential solar market, reaching 38% in 4Q14. Residential solar allows higher margins, as well, due to the smaller size of installations. This trend, along with the launch of SolarCity's loan product, "MyPower," could bring about a turnaround for the company's solar systems and components stream.
Product innovation
SolarCity derives its innovative edge partially from its MyPower solar loan product, which is the first of its kind. MyPower lets customers own their solar energy system, allowing them to adopt properties of a PPA (power purchase agreement) structure, wherein they only pay for the energy produced, as opposed to paying for the full capacity of their installed system. But, unlike PPAs, MyPower customers can also own their own systems.
Article continues below advertisement
Still, a key point to note is that, due to the third-party ownership of solar systems, many states do not allow PPAs. That said, MyPower may open new paths to solar energy in states where alternative energy hasn't so far been very popular. MyPower revenues contribute to the systems and components stream, and with a rising number of residential customers who prefer to own their solar systems, these revenues could begin to make up a larger proportion of the firm's net revenue.
In the operating leases stream, the number of systems in service under PPAs in 2013 (as opposed to those under lease) increased from 18% to 42% of the total systems in service. In addition, the number of residential customers who sign PPAs has been increasing, and since residential retail rates are higher than commercial retail rates (according to prices offered by utilities), revenues in the operating leases stream should increase.
Still, these innovative ideas and products may not be enough for the company to improve its profitability. While over 30,000 MyPower agreements were executed in 2014, revenues from the product remain insignificant.
In the next part of this series, we'll look at SolarCity's supporting asset base.