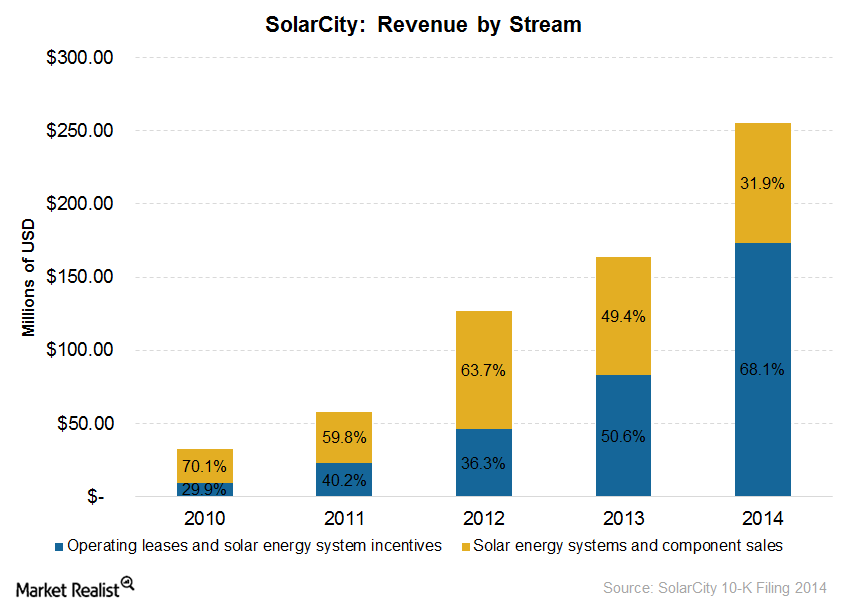 SolarCity's Multi-Stream Business Model
By Saania Malik

Aug. 31 2015, Updated 11:07 a.m. ET
Revenue streams
SolarCity's (SCTY) revenue streams fall into two categories:
operating leases and solar energy system incentives
solar energy systems and component sales
Article continues below advertisement
Operating leases and solar energy system incentives
Revenues from operating leases consist of proceeds from both leases and PPAs (power purchase agreements), as well as proceeds from solar energy system incentives offered by state and local governments. Lease and PPA terms range from 10 to 20 years, and SolarCity recognizes revenue from leases evenly over the term of the lease. The company recognizes revenue from PPAs as it generates and sells electricity.
Solar energy systems and component sales
This revenue stream comprises of a broader range of products and services, from outright solar system sales to cash-paying customers and long-term solar energy system sales contracts. Sales contract revenue is recognized on a percent-of-completion basis, which depends on the percentage of labor cost-to-date versus the total project labor cost. Revenue from systems financed under MyPower contracts is also included under this category.
Article continues below advertisement
In addition, this revenue stream consists of other energy-related products and services, including order fulfillment for solar system mounting hardware, which SolarCity has integrated as revenue following its acquisition of Zep Solar, and solar cells and modules, which it has overseen since its acquisition of Silevo.
Customer base
SolarCity's geographic reach expands across 15 US states, with 75% of its customers in 5 states—California, Arizona, Colorado, Hawaii, and New York. These states happen to be some of the biggest markets for solar power, with California in the lead.
Revenue contribution
Operating leases and solar energy system incentives have been generating an increasingly higher proportion of net sales—as well as driving most of the company's growth in revenues—for SolarCity. This growth can be attributed to an increasing number of solar energy systems placed in service leases and PPAs, a number that has seen year-over-year growth in segment revenues between 2012 and 2014, exceeding 100%. Solar energy system and component sales, however, have increased less than 1% in the last two years.
In the next part of this series, we'll look at the key drivers of SolarCity's revenue streams, as well as their accompanying costs.