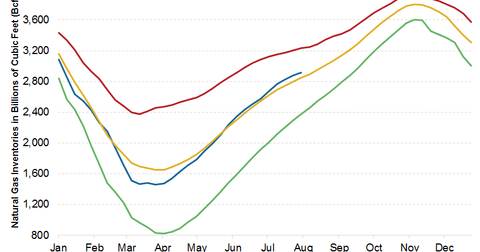 Small Natural Gas Storage Build: Will Prices Rally?
By Keisha Bandz

Updated
Natural gas inventories
On Thursday, August 6, the EIA (U.S. Energy Information Administration) published its "Natural Gas Weekly Update" for the week ended July 31. The report shows that the natural gas storage build was 32 Bcf (billion cubic feet), causing inventories to rise to 2,912 Bcf that week. Analysts had been expecting a larger increase of 42 Bcf.
Article continues below advertisement
What this means for investors
When inventories rise less than the market expects them to, it's usually bullish for natural gas prices. It either means that demand is greater than expected or that supply is weaker than expected.
Higher natural gas prices mean higher revenues for natural gas producers such as Chesapeake Energy (CHK), Southwestern Energy (SWN), QEP Resources (QEP), and Cabot Oil & Gas (COG). These companies make more money when natural gas prices rise and less money when they fall.
All of these companies combined make up 1.6% of the iShares U.S. Energy ETF (IYE).
Higher natural gas prices may also positively affect MLPs such as ONEOK Partners (OKS). Higher prices may encourage producers to produce more natural gas, which would mean greater volume for MLPs to transport.
Weekly data
The 32 Bcf net injection in the week ended July 31 compares to a net injection of 83 Bcf in the corresponding week last year and a five-year average net injection of 53 Bcf.
According to the EIA, from the week ended April 3, the beginning of the injection season, through the week ended July 31, net injections totaled 1,451 Bcf. In comparison, 1,544 Bcf were injected in the corresponding 18 weeks last year. The five-year average injection for the corresponding 18 weeks is 1,197 Bcf.
Article continues below advertisement
Current inventories
After the 32 Bcf build in the week ended July 31, natural gas inventories were ~23% higher than last year's levels and 2.2% higher than the five-year average. Inventories have been outpacing the five-year average since the week ended May 29. This is bearish for natural gas prices. So despite the low storage number reported in the week ended July 31, natural gas prices still face the threat of robust supplies thanks to high production levels.
According to Bentek Energy, domestic production in 2015 averaged 72.5 Bcf per day between April and July 31. That's 5% greater than the production levels in the corresponding period last year. We'll cover natural gas production trends in a later part of this series. The following part discusses how markets reacted to this mixed news.
Forecasts
The EIA's July STEO ("Short-Term Energy Outlook") report, released on July 7, forecasts that inventories will total 3,919 Bcf at the end of the injection season in October. That would be 121 Bcf, or 3.2% higher, than the five-year average. The next STEO is expected to come out on August 11.