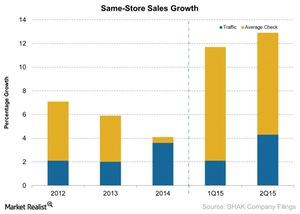 Shake Shack's Long Lines Meant Profits in 2Q15
Same-store sales growth
The star of Shake Shack's (SHAK) second-quarter performance was same-store sales growth, which grew 12.9% compared to 4.5% a year ago. This growth was far from management's guidance of low- to mid single digits.
Article continues below advertisement
Why long lines mean profits
Growth in same-store sales was driven by menu price increases that management made in September 2014 and January 2015. The mix, which is also part of the average check, grew as a result of newer items offered on the menu. Traffic also contributed 4.3% to the growth. All these metrics translated into restaurant-level operating profit growth of 110% year-over-year.
Bear in mind that in 2Q15, a total of 16 stores formed the comparable base for this same-store sales growth calculation compared to ten stores a year ago. This difference is important because it tells you whether the same-store sales growth is coming from newer stores that were added to the base or from older stores. During the 2Q15 earnings call, management stated that "improvement was pretty consistent across all Shacks in the comp base." This is positive, as it says that growth was consistent across all stores.
The Madison Square Garden store, which had closed for renovation, also opened again. This contributed to the above comp base for the quarter.
If you invest in restaurant stocks such as Shake Shack (SHAK), Panera (PNRA), Starbucks (SBUX), or McDonald's (MCD), you should track same-store sales growth closely. Starbucks and McDonald's currently form 7% of the Consumer Discretionary Select Sector's (XLY) portfolio.
Non-comp base stores
But this only tells us the progress at 16 of the 71 stores that the company includes in its system. Of the 71 stores, 37 stores were domestic (in the United States) and company-operated, and the remainder was franchised. Average weekly sales at all 37 domestic company-operated stores increased 7.4% from $95,000 in 2Q14 to $102,000 in 2Q15. Franchise revenue grew 20.1% from $1.6 million to $1.9 million. All these numbers mean that all Shake Shack restaurants saw robust growth during the quarter.
But is this double digit same-store sales growth sustainable? Read on to the next part of this series.