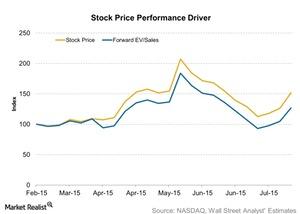 Shake Shack: Why You Should Consider the Stock's Valuation
Revenue affecting share prices
Previously in this series, we saw what drives Shake Shack's (SHAK) revenue. In this article, we'll see how the revenue growth affects Shake Shack's share price.
In the chart above, you can see how Shake Shack's stock price has trended with the valuation metric forward EV/sales (current enterprise value over next-12-month sales estimates). Enterprise value is calculated as market cap + preferred equity + minority interest + total debt less cash.
Article continues below advertisement
As we saw in the previous part of this series, Shake Shack's 1Q15 revenue beat analysts' estimates. Following the 1Q15 earnings release, analysts raised their next-12-month revenue estimate by 1%. Forward EV/sales increased to 18.4x from 13.7x. However, most of the increase in this valuation multiple was driven by an increase in the numerator—the share price—which increased to ~$92. This essentially means that investors are more optimistic about Shake Shack's growth.
Using the PE multiple for valuing Shake Shack may not be appropriate because the company is in its early stage of growth and has volatile earnings. In 4Q14, Shake Shack had negative EPS (earnings per share), which makes forward PE unusable. So we need a better valuation multiple, such as forward EV/sales.
Current valuation
Shake Shack is currently trading at 13.8x forward EV/sales. If we look at Shake Shack's forward EV/sales multiple since the company went public, we see that the multiple has averaged 12.0x. Keeping all variables constant in a forward EV/sales multiple, we get the share price of $61.30 for the company to currently trade at 12.0x.
Since forward EV/sales is a relative valuation multiple, we need to compare it with Shake Shack's peers such as Starbucks (SBUX), and Chipotle (CMG). Starbucks, Chipotle, Darden (DRI), and McDonald's (MCD) form 8.3% of the Consumer Discretionary Select Sector's (XLY) portfolio. This ETF offers broader exposure to the restaurant industry than SHAK alone.