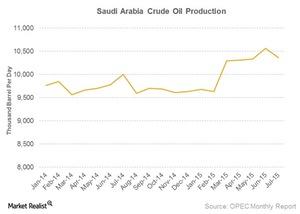 Saudi Arabian Oil Production and Demand Increase
By Sue Goodridge

Aug. 18 2020, Updated 6:28 a.m. ET
Saudi Arabian oil production
In June 2015, Saudi Arabian oil production hit a record high of 10.57 mbpd (thousand barrels per day), the highest in the last three decades. In July, oil production fell to 10.36 mbpd, but it was still 4% higher than the same period last year.
Saudi Arabia plays an important role in the energy industry. Its policies on production and exports have a major impact on energy markets as well as the global economy.
Article continues below advertisement
Production may increase more
In an already oversupplied market, Saudi Arabia may increase its production even further to protect its market share rather than decrease production to boost oil prices. According to reports by Goldman Sachs and Citi Group, Saudi Arabia may push production to its daily maximum of 11 mbpd in the second half of 2015. This could have a negative impact on oil prices (DBO). 
Oil demand in Saudi Arabia
Oil demand in Saudi Arabia is increasing as business conditions improve in the country. The PMI (Purchasing Managers' Index), which is an indicator of the economic health of a country, rose to a three-month high at 57.7 in July, up from 56.1 in June.
Saudi Arabia is also experiencing hotter weather conditions than anticipated, which increases the demand for oil. Higher in-house demand may decrease exports of crude oil, which could have a negative impact on the crude tanker industry and companies like Frontline(FRO), Teekay Tankers (TNK), Euronav (EURN), Nordic American Tankers (NAT), and DHT Holdings (DHT).
In the next part of this series, we'll look in detail at the change in Saudi Arabia's oil exports and how its new refinery expansion plans have impacted the crude tanker industry.