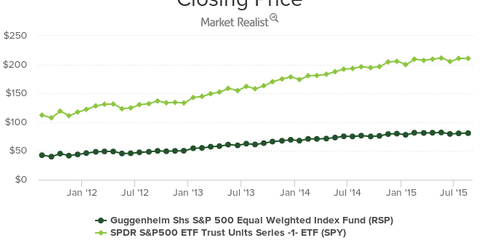 Why RSP Has a Smart Investment Strategy
By Ivan Kading

Updated
RSP is a modified SPY
The S&P 500 Index (SPY) is based on market capitalization. It means that the stock with largest market capital will have the highest weighting in the index. Currently, Apple holds the top spot in SPY. Apple accounts for 4% of its total portfolio. A slight modification of this index gives you the S&P 500 Equal Weight Index. It's the underlying index of the Guggenheim S&P 500 Equal Weight ETF (RSP). The index is equally weighted. As a result, the size of the market cap isn't very important.
[marketrealist-chart id=604600]
Article continues below advertisement
RSP is an equal-weighted fund
A significant benefit of an equal-weighted portfolio is that the performance of the portfolio doesn't depend on its top holdings. This is the case with a market capitalization index. RSP's holdings include Netflix (NFLX), Chubb (CB), Tesoro (TSO), and Amazon (AMZN). They totalled 503 as of August 17, 2015. Each of RSP's holdings represents 0.25% of its portfolio. The fund has given a return of 7% annually with a gross expense ratio of 0.40%.
Conclusion
Smart beta funds are a modern investment tool. They have revolutionized low-cost investing. However, it's critical to understand the strategy of any smart beta fund perfectly before investing in the fund. These funds utilize the combination of a passive and active management strategy. They can be used as a substitute for similar strategy funds using the active management approach. This way, an investor can save the cost of investment.
However, smart beta funds are slow in making an investment decision. The fund manager of an active fund aggressively follows the market and makes a leading decision that isn't possible with smart beta funds. The choice of including a smart beta fund in an investor's portfolio depends on the investor's needs.