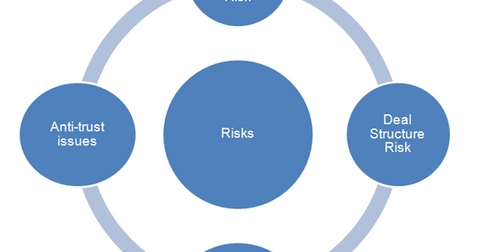 Risks in the Teva–Allergan Deal
By Margaret Patrick

Aug. 5 2015, Updated 8:06 a.m. ET
Risks
On July 27, 2015, Teva Pharmaceutical Industries (TEVA) announced the acquisition of the generic business of Allergan (AGN) for a consideration of $40.5 billion. This valuation made the acquisition the highest-priced deal ever for an Israeli company.
The above graphic shows the major risks surrounding the Teva–Allergan deal. The majority of these risks should also exist for other large deals in the healthcare industry. These include the deal between Celgene (CELG) and Receptos, as well as the deal between Mylan (MYL) and Perrigo.
Article continues below advertisement
Post-merger integration risk
Sigurdur Olafsson, the CEO and president of Teva Global Generic Medicines Group, served in several leadership positions in Allergan—then known as Actavis—from 2003 to 2014. Although this reduces the degree of post-merger integration risk for Teva and Allergan Generics, there remains some risk resulting from the different work cultures in the two companies. If critical management and technical personnel leave the new Teva, the company may have difficulty in achieving its projected synergies.
Deal structure risk
A company can acquire a spun-off division of another company through various tax-efficient deal structures such as a monetizing spin-off, a sponsored spin-off, a Reverse Morris Trust, and a Double Reverse Morris Trust. The Teva–Allergan deal is expected to follow the Reverse Morris Trust deal structure.
However, there are certain strict requirements regarding the size of the acquiring company—the acquirer must be smaller than the target. The deal may require the divestiture of certain business segments of Teva to fulfill the deal criteria.
Article continues below advertisement
Antitrust risk
The deal faces limited antitrust risk, as it is subject to Hart–Scott–Rodino review by the Federal Trade Commission and the Department of Justice. This review involves regulators determining whether the merger violates antitrust laws.
If antitrust issues are recognized, the deal might require additional divestitures from the combined entity. These divestitures are time-bound and could fetch less than their fair values. Also, they could be detrimental to the overall business strategy of the combined Teva–Allergan entity.
Performance risk
If the Teva–Allergan deal does not realize the projected cost, research, and capex-related (capital expenditure) synergies, it may lead to value destruction for Teva's shareholders.
In addition to Teva, investors can also get exposure to Allergan (AGN) while reducing company-specific risks by investing in the Health Care Select Sector SPDR ETF (XLV). Allergan accounts for 4.82% of XLV's total holdings.