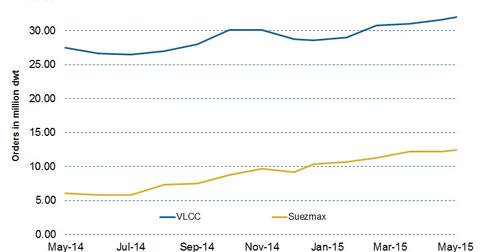 Rising Crude Tanker Orderbook: Will There Be an Oversupply?
By Sue Goodridge

Updated
Crude tanker orderbook
The crude tanker orderbook has risen steadily for many months. Orderbook data tell us how many ships have been ordered and how many are under construction. The orderbook level helps us assess companies' expectations of future rates and industry profitability.
Article continues below advertisement
Orderbook suggests a positive outlook
According to data from Athenian Shipbrokers, the VLCC (very large crude carrier) orderbook rose in July to 34.5 million DWT (deadweight tonnage) from 32.9 million DWT in June 2015. The Suezmax orderbook also recorded a rise from 13 million DWT to 14.2 million DWT.
In July, 113 VLCCs were ordered compared to 130 in June. Similarly, 88 Suezmax vessels were ordered in July compared to 56 in May. The orderbook has risen for two reasons. First, newbuild vessel prices have remained low. Second, oil prices (DBO) are falling, and companies have a positive outlook for the industry.
Possibility of oversupply
Of the total orderbook, 39.1 million DWT is scheduled to be delivered in 2016. As Iran sells its oil stored on VLCCs, these tankers will be back in a marketable fleet. This increases the supply of vessels, which can pull down freight rates.
There's a possibility of an oversupply of tankers in the market, which will have a negative impact on companies such as Frontline (FRO), Nordic American Tankers (NAT), Teekay Tankers (TNK), Euronav (EURN), DHT Holdings (DHT), and Tsakos Energy Navigation (TNP).