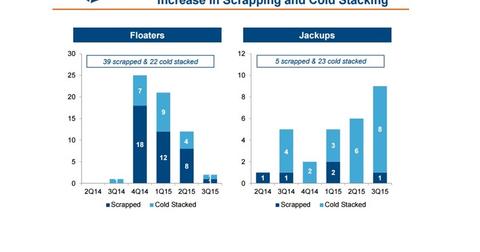 Rig Stacking: Positive or Negative for the Drilling Industry?
By Sue Goodridge

Updated
Rig stacking and scrapping: A reactive measure
Diamond Offshore (DO), Atwood Oceanics (ATW), Rowan Companies (RDC), Seadrill (SDRL), Transocean (RIG), and Noble (NE) are reacting to depressed rig demand by either scrapping vessels or cold-stacking them. Offshore drilling (IYE) is a capital-intensive industry, and keeping rigs idle without cold-stacking them can cost as much as $12,000 per day. Cold-stacking rigs reduces expenses and preserves capital during a downturn. Amid a lack of rig demand, companies are forced to scrap rigs despite lower scrap steel values.
Article continues below advertisement
Industry scenario
Since September 2014, offshore drillers have announced that they will scrap around 39 floaters, and 22 floaters have been cold-stacked. These 61 floaters represent 19% of global floater supply as of July 2015. Management believes companies that have rigs older than 30 years will stack them permanently once they finish their contract terms. Currently, there are around 17 floaters older than 30 years that are idle, without contracts. Plus, approximately 20 floaters aged more than 30 years will see their contracts expire at year end.
Similarly, in the Jackup market, 55 rigs older than 30 years are stacked or idle without any contracts. Also, an additional approximate 45 rigs aged around 30 years have contracts ending before year end. This scenario suggests that stacking and scrapping in the offshore drilling industry will continue in the coming quarters.
Stacking for Ensco (ESV)
Ensco (ESV) hasn't been left out from this scrapping and stacking trend. The company had cold-stacked seven rigs by last quarter. It stacked six more rigs—two floaters and four jack-ups—this quarter. In Q2 2014, the company scrapped two rigs. Stacked rigs can return to the active fleet once market conditions improve.
Tough scrapping and stacking reduce costs, but investors should keep in mind that they also lower a company's revenue. Ensco (ESV) has a relatively young fleet. Its floater fleet has an average age going forward of ten years, and the ultra-deepwater fleet has a four-year average age. Looking at the younger fleet age, we can see that, going forward, the company's scrapping activity may not be as aggressive as its peers', but rig stacking should continue its pace. In the next article, we'll see how stacking rigs has a positive impact on costs.