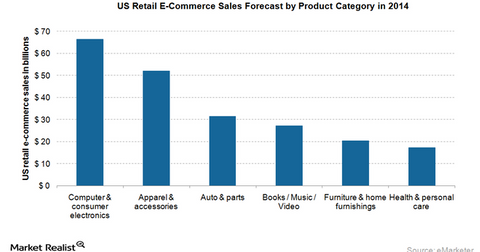 Retailers Pull the Plug, Refuse to Do Business with Jet.com
By Matilda James

Updated
Unhappy retailers
Jet.com stepped out on the wrong foot with dozens of leading US retailers just weeks after its official launch. The Wall Street Journal recently reported the disassociation of retailers such as Macy's (M), Amazon (AMZN), Home Depot (HD), Walmart (WMT), Walgreens, and Target from the Jet.com website.
This flight followed complaints by retailers against Jet.com for placing links to these retailers' sites on its website without seeking prior permission. Members of Jet.com were promised cash back for making purchases after clicking on these affiliate links.
Article continues below advertisement
This was indeed a big blow to the upcoming startup as it working toward building its audience and user base. Jet.com ignored the individual retailers' own terms and conditions by showcasing these affiliates on its website via VigLink. VigLink is an intermediary that sends traffic to the sites without seeking prior approval from these affiliates, raising questions about the legality of these affiliate links and affecting Jet.com's reputation. Jet.com quickly responded by removing these links.
Jet.com promises the lowest prices online
Jet.com aims to surpass Amazon and become a leading e-commerce platform. The startup could be a potential threat to Amazon as it promises to offer prices that are 10%–15% cheaper than anywhere else on the Internet. Also, customers can save on the shipping costs when they add more items to their carts. The level of savings depends on the nature of the items shipped from the same warehouse, as well as on the distance between the customer and the merchandise warehouse.
Customers could also save more by choosing options like paying with debit cards or opting to wait for items to be shipped in the same package.
Article continues below advertisement
According to a report from eMarketer, and as the above chart shows, electronics, apparel, furniture, and healthcare are the four largest categories in the US retail e-commerce market. These are the four categories where Amazon's prices were higher than Walmart and Target, according to a report from the Wall Street Journal.
Walmart and Target's online prices are cheaper than Amazon
This isn't the first time that Amazon has been compared with other retailers. According to a report from the Wall Street Journal that cites online product research firm 360pi, online prices for Walmart and Target merchandise could be 5%–10% cheaper on average than Amazon's prices. The report also notes that Amazon's prices were cheaper than online prices at Kohl's, Sears, and Macy's.
For diversified exposure to Amazon, you could invest in the PowerShares QQQ Trust, Series 1 ETF (QQQ), which invests about 3.5% of its holdings in Amazon.