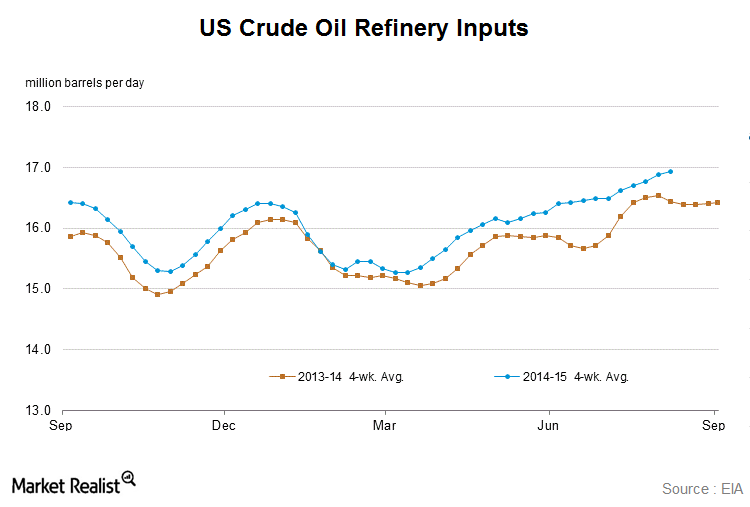 Refinery Inputs Fell but Are Higher than 2014 Levels
By Keisha Bandz

Nov. 20 2020, Updated 4:41 p.m. ET
Refinery input trends
In its weekly report on August 12, the EIA (U.S. Energy Information Administration) reported that US crude oil refinery inputs averaged 17.029 million barrels per day (or MMbpd) during the week ended August 7. This was a decrease of 46,000 barrels per day (or bpd) compared to the prior week's average.
Despite the small drop in refinery inputs crude oil runs remain near record levels, the refinery utilization rate for the August 7 week remained flat at 96.1%, the same as the previous week (July 31).
Article continues below advertisement
Compared to last year, current refinery input levels are ~5% higher. The four-week average refinery input of 16.934 MMbpd to August 7 was ~3% higher than the corresponding period last year at ~16.439 MMbpd. The four-week average rose 0.3% week-over-week. Looking at four-week averages gives you a smoothed view of the trend for what is otherwise a volatile number week-over-week.
So the slight drop in crude oil inputs wasn't daunting enough to result in an increase in crude oil inventories. Of course, they did have some help from reduced crude oil production offsetting the impact of increased imports, as we saw in Part 2.
What this means
Usually, a drop in crude oil inputs indicates that refiners such as Tesoro (TSO) and Valero Energy (VLO) as well as refining MLPs such as Northern Tier Energy (NTI) and CVR Refining (CVRR) expect lower profits at current crude oil and refined product prices. The lower demand for crude oil lends a bearish tone to crude oil prices. Having said that, markets shrugged off the drop in refinery inputs in the week of August 7 as WTI closed higher after the release of the EIA report.
On Wednesday, August 12, WTI closed at $43.30 per barrel—just 0.5% higher than the previous close. As we progress through this series, we'll look at other factors that might have caused WTI's increase.
Follow our weekly recap of crude oil prices at Market Realists' Energy & Power page. You can read the latest weekly recap at Crude Oil Prices Fell, then Increased towards the End of Last Week.
TSO and VLO make up ~3% of the iShares U.S. Energy ETF (IYE).
Refinery demand
Refineries are the main source of crude oil demand. Refinery input levels affect crude oil inventory draws and builds. Refining throughputs affect inventory levels not only for crude oil but also for refined products such as gasoline and distillates. We'll discuss inventory levels for these products in later parts of this series.