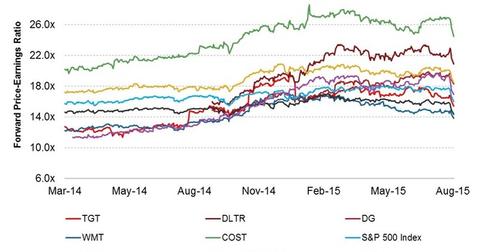 What Does the Recent Market Meltdown Mean for Mass Merchandisers?
By Phalguni Soni

Updated
Market reaction to Walmart's 2Q16 results
As we already saw in this series, Walmart's stock price fell 3.3% to $69.48 on August 18, 2015, due to sub-par results and lowered outlook. In contrast, Target's (TGT) stock price rose 0.7% to $80.30 on August 19, the day the retailer declared its 2Q16 results.
Article continues below advertisement
Market volatility
On August 24, mass merchandisers and grocers faced further price declines when the global market meltdown affected stock performance. The sell-off in China's stock market wiped out billions from global stock markets in Asia, Europe, and the United States as investors flocked to safe-haven assets.
Target fell 4% to $75.28 on August 24, while Walmart was down 3.9% to $63.95. Costco (COST) fell the most by 4.3% to close the day at $132.97. The severe market plunge on August 24 has turned year-to-date performance negative for Costco (COST) and Walmart (WMT).
Relative valuations: Prices and valuations as of August 24
Valuations have also plunged for Walmart and its peers. Walmart is now trading at a forward PE (price-to-earnings) multiple of 13.8x, the lowest since October 2014. That's down more than 14% since the start of the year.
Target is currently trading at a forward PE multiple of 15.4x, the lowest since last November. Costco is trading at 24.5x forward earnings. Its valuations are higher than its peers due to historically higher same-store sales growth than either Walmart or Target.
Target and Walmart are trading at a considerable discount to historical average figures for popular benchmarks from January 1995 to the present. The average forward PE multiple for the S&P 500 Index (SPY) (VOO) (IVV) has been 16.8x. For the Dow Jones Industrial Average (DIA), it's 15.9x, while the S&P 500 Food & Staples Retailing Index (XRT) (XLP) is 18.9x.
Walmart's recent performance hasn't boosted market valuations. Both Walmart and Costco are eyeing growth opportunities both internationally and in the United States. Target's Canada debacle has forced the retailer to look more closely at growth opportunities it should be pursuing. As a result, the company is looking at a core category merchandising focus. As part of its recent strategy, it's also planning to exit its pharmacy business, as we saw in Part 7.