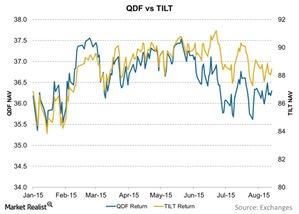 QDF and TILT's Holdings: What Investors Should Know
By Ivan Kading

Sep. 2 2015, Updated 11:13 a.m. ET
QDF is quality plus dividend
The FlexShares Quality Dividend Index Fund (QDF) seeks to track the investment results of the Northern Trust Quality Dividend Index. The index selects stocks from the universe of US-listed stocks that are high quality and have a good dividend payout ratio. In this sense, the index targets regular income for their investors with a possibility of long-term capital appreciation. The quality of each company is determined by its profitability, management expertise, and cash flow.
Article continues below advertisement
A strong performer
Currently, QDF's portfolio size stands at $681.30 million with stocks like Wells Fargo (WFC), Home Depot (HD), and Apple (AAPL) among its top holdings. Since its inception on December 14, 2012, the fund has given a return of 18.22% with a net expense ratio of 0.37%. The fund is mainly distributed over the finance, information technology, and consumer discretionary sectors.
Tilted towards small-cap
The FlexShares Morningstar U.S. Market Factor Tilt Index Fund (TILT) follows a different investment strategy. The fund is based on the Morningstar U.S. Market Factor Tilt Index. The index tweaks the original Morningstar U.S. Index by tilting the portfolio towards small-cap stocks and value stocks using a multi-factor modeling approach. The index aims to provide long-term capital appreciation for its investors.
TILT's portfolio primarily contains financial and information technology stocks. Apple (AAPL) and ExxonMobil (XOM) are present in its top holdings. TILT's return since January 1, 2015, is 2.10%. Its net expense ratio is 0.27%. It's the lowest among its peers—an advantage of being a smart beta fund.
In the last part of this series, we'll discuss the investment philosophy of the Guggenheim S&P 500 Equal Weight ETF (RSP). It's an equal-weighted smart beta fund.