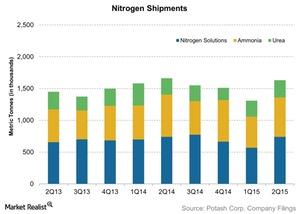 PotashCorp's Nitrogen Segment and Why Investors Should Track It
Nitrogen segment
Nitrogen-based fertilizers such as ammonia and urea are used to speed up the growth of crops and improve yields. At Potash Corporation, or PotashCorp, gross profit took a 26% hit in 2Q15, coming in at $222 million. The firm's gross profit was $304 million a year ago.
The nitrogen segment contributed 31% of PotashCorp's (POT) gross profit during the second quarter, making it the company's second-largest segment.
Article continues below advertisement
Nitrogen segment volumes
Overall nitrogen shipments or sales fell 1.8% year-over-year during 2Q15, with the steepest decline coming from ammonia, where shipments declined by 6% to 0.6 million tons. In the first half of 2015, sales were down 10% compared to the first half of last year. Ammonia volumes took the worst hit, declining by 6.6% to 0.62 million tons in 2Q15 year-over-year. Nitrogen solution volumes followed with a slight decline of 0.1%. These declines were somewhat offset by urea volumes, which increased 5.4% to 0.27 million tons.
This segment will be important to track given that weak prices will continue to impact the company's earnings.
Why did the nitrogen segment decline?
The nitrogen segment's decline resulted from a drop in nitrogen prices. Producers such as CF Industries (CF) and Agrium (AGU) have also reported declines because of their exposure to lower nitrogen prices. This has been negative for the VanEck Vectors Agribusiness ETF (MOO), which invests 33% of its portfolio in agricultural chemical stocks, including 4% in Mosaic (MOS).
In the next part of this series, we'll learn why nitrogen prices have declined and what the future has in store.