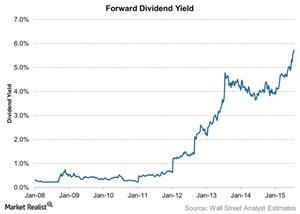 PotashCorp's Must-Know Dividend Yield and Valuation
High yields
Potash Corporation (POT), also known as PotashCorp, has a dividend yield of 5.5%, one of the highest in the industry. Defensive investors who prefer a steady income stream consider this to be an attractive fact.
The company's forward dividend yield stands at 5.7%. And it has steadily increased its dividends over the years. A hike was announced in 1Q15, when its annual dividend increased by 8.6% to $1.52 per share compared to its previous annual dividend. The dividend payout ratio as of 2Q15 stands at 76%, an increase from a single-digit ratio just five years ago.
With some key company projects about to come online, PotashCorp stands to generate higher cash flows. Investors attracted to PotashCorp for its dividend yield should be pleased, because a higher cash flow leaves more room for the company to increase its dividend.
Article continues below advertisement
Valuation
PotashCorp is trading at a 14.5x forward PE (price-to-earnings ratio), while the industry average forward PE stands at 13.6x.
After the firm announced its 2Q15 earnings, analysts revised their forward earnings per share estimate to $1.88, down from $1.96. The company's average 2014 valuation stood at 18x, which shouldn't be surprising because it had a strong 2014. But weakness in industry fundamentals such as lower crop and fertilizer prices has affected PotashCorp's earnings. In turn, this has lowered its earnings estimates and valuation multiple.
The firm's share price fell 1.6% after the earnings release, mainly because of the revised earnings estimates. But if the market decides that PotashCorp's above-average valuation isn't justified, then the stock may fall further.
Here's how PotashCorp's peers compare in terms of trading valuations:
Currently, AGU, POT, and MOS form 13% of the VanEck Vectors Agribusiness ETF (MOO).