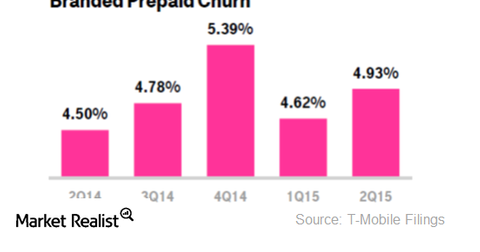 Postpaid Plan Migrations Reduce T-Mobile's Prepaid Net Additions
By Adam Rogers

Updated
Branded prepaid churn
As seen in the below chart, branded prepaid churn for T-Mobile (TMUS) was 4.93% in 2Q15, an increase of 31 basis points in comparison to 4.62% in 1Q15 and an increase of 43 basis points compared to 2Q14's churn rate of 4.50%. T-Mobile has stated that its sequential and YoY increase in churn rate was primarily due to ongoing competitive activity in the marketplace.
Article continues below advertisement
Migrations to branded postpaid plans
In 2Q15, migrations to branded postpaid plans reduced the company's prepaid net customer additions by ~175,000, down from 195,000 in 1Q15 and up from 85,000 in 2Q14. In 2Q15, T-Mobile reported total branded net customer additions of 1.186 million compared to 1.198 million in 1Q15 and 1.010 million in 2Q14. It was the sixth consecutive quarter where branded net customer additions beat the 1 million mark.
Total wholesale net customer additions
In 2Q15, total wholesale net customer additions stood at 886,000, compared to 620,000 in 1Q15 and 460,000 in 2Q14. Mobile virtual network operator (or MVNO) net customer additions were 919,000 in 2Q15, compared to 479,000 in 1Q15 and 235,000 in 2Q14.
Machine-to-machine (or M2M) net customer losses for 2Q15 were 33,000, compared to net customer additions of 141,000 in 1Q15 and 225,000 in 2Q14.
Total customer net additions
T-Mobile saw total net customer additions of 2.72 million in 2Q15 compared to 1.818 million in 1Q15 and 1.470 in 2Q14. This was the ninth consecutive quarter where total net customer additions surpassed the 1 million mark and the fourth time in the last six quarters where total net additions passed the 2 million mark.
After the launch of its Un-carrier initiative in 1Q13, T-Mobile added in excess of 16 million customers. The company ended 2Q15 with more than 58.9 million customers.
In comparison, Sprint's total subscriber base grew by 5.7% YoY to 57.67 million in 2Q15. It could not surpass T-Mobile's (TMUS) subscriber base of 58.9 million and slipped to fourth place in the US telecom market, with Verizon (VZ) and AT&T (T) taking the top two places.
T-Mobile (TMUS) comprises 5.45% of the iShares US Telecommunications ETF (IYZ) and 0.10% of the iShares Russell 1000 Value ETF (IWD).