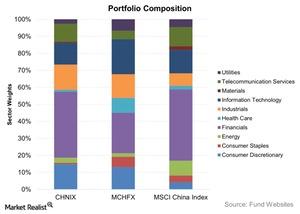 What Are the Portfolio Compositions of CHNIX and MCHFX?
By Lynn Noah

Updated
MSCI China Index
In this article, we will evaluate the portfolio composition of the Clough China Fund Class I (CHNIX) and the Matthews China Investor Class (MCHFX) in comparison to their benchmark composition, the MSCI China Index.
The MSCI China Index is composed of stocks listed in China only. The MSCI China Index consists of 42.0% financial stocks, 13.8% information technology stocks, and 11.3% of telecommunication services stocks. These are the index's top three sectors.
Article continues below advertisement
Portfolio composition of the funds
Stocks from the financial sector form the biggest chunk of both funds. These stocks make up 33.9% of CHNIX, while forming 23.8% of the MCHFX. Meanwhile, 42% of the MSCI China Index comprises of financials stocks.
The CHNIX is overweight in the consumer discretionary and industrials sectors, which make up 13.0% and 12.9% of its portfolio, respectively, as compared to the benchmark. It also has 10.5% of its assets invested in two funds, namely the CSOP FTSE China A 50 ETF and the Morgan Stanley Inst Liq Prime. The top three holdings of the CHNIX include China Mobile (CHL), Tencent Holdings (TCEHY), and China Construction Bank (CICHY). These holdings form 22.9% of its portfolio.
The top three sectors of the MCHFX include information technology, industrials, and consumer discretionary sectors with weights of 20.7%, 14.0.%, and 13.0%, respectively. The fund has exposure to CNOOC (CEO), Alibaba Group Holdings (BABA), and NetEase (NTES).
Though the performance benchmark of the CHNIX and the MCHFX is the same, their composition is very different, and neither of them replicates the benchmark.
Going forward
We evaluated China's rising debt levels and macroeconomic scenario in the earlier parts of this series. Investors should keep a close watch on developments on those fronts to determine whether the economic tide is turning in the favor of China.
In a move to strengthen exports and liberalize its economy, the Central Bank of China recently devalued its currency for three consecutive days. The exports are expected to rise due to the fall in the renminbi against the US dollar and the euro. The performance of those funds that have large exposure to exported-oriented companies will benefit in the near term.
Also, China's effort to turn around the economy have come in the form of slashing the required reserve ratio and the one-year lending rate. However, only time will tell whether these measures will help revive the Chinese economy. It is important to remember that past performance is no barometer of future performance.