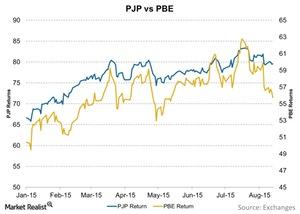 PJP and PBE Are Sectoral Smart Beta Funds
By Ivan Kading

Updated
PJP only invests in pharmaceutical companies
The PowerShares Dynamic Pharmaceuticals Portfolio ETF (PJP) is a smart beta fund that tracks the performance of the Dynamic Pharmaceutical Intellidex Index. The index components are limited to companies that are into the research, development, manufacture, sale, or distribution of pharmaceuticals and similar products. Currently, the index is made up of 30 US pharmaceutical stocks. PJP invests at least 90% of its net assets in the components of its index.
Article continues below advertisement
PJP's outstanding performance
PJP's whole portfolio represents the pharmaceutical sector. Its top holdings include pharmaceutical stock like Novavax (NVAX), Depomed (DEPO), and Amgen (AMGN). Due to the outstanding performance of the healthcare sector, this fund has performed exceptionally well over the past few years. It has given an average annual return of 20.04%. Its current AUM (assets under management) is $2.15 billion.
PBE is a biotech fund
A similar sectoral smart beta fund is the PowerShares Dynamic Biotechnology & Genome Portfolio ETF (PBE). It focuses more on the biotechnology sector instead of the pharmaceutical sector as a whole. The stock selection strategy is also similar to PJP. The stocks are mainly engaged in the research, development, manufacturing, marketing, and distribution of various biotechnological products, services, and processes that make it to the fund's portfolio. It's based on the Dynamic Biotech & Genome Intellidex Index. The fund has performed similarly to PJP with a quality total annual return of 15.25% to its investors. Currently, it manages a portfolio of $577.09 million.
We'll discuss some of the PowerShares' smart beta funds that take the unconventional route to smart investment in the next part of this series.