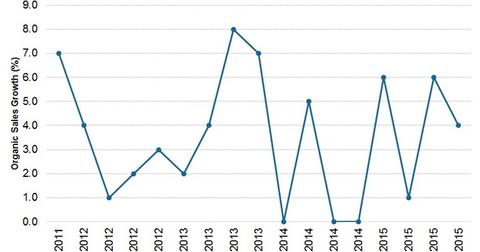 P&G's Health Care Business Had the Highest Organic Sales Growth
By Penny Morgan

Updated
4Q15 health care business results
Procter & Gamble's (PG), or P&G, health care segment's organic sales rose 4% in fiscal 2015[1. Year ending June 30, 2015]—the highest among all of the product categories. This was due to favorable product mix and pricing in both oral care and personal care.
The net revenue for 4Q15 came in at $1.7 billion—6% lower compared to 4Q14. This was primarily due to lower volumes driven by competition from Colgate-Palmolive (CL) and Unilever (UL)—especially in Asia—and many local and regional competitors. To learn more about Colgate-Palmolive's dominance in toothpaste, please read A Must-Know Business Overview of Colgate-Palmolive
However, the net earnings rose 8% compared to the prior fiscal year to $0.3 billion.
Article continues below advertisement
Oral-B's global reach in the top 100 brands
P&G's oral care business delivered a strong year of operating returns. P&G expanded the Oral-B toothpaste brand in over 40 countries. The brand grew by over 20%, even after six years since its launch, according to comments by P&G's CEO Alan Lafley.
According to Kantar's Brand Footprint report, Oral-B is among the top 100 brands in three continents to have a global reach. The three continents are the US, Latin America, and Europe.
The growth was slower in developing markets like Asia and the Middle East. However, it has climbed the ranking in every region across the world, especially in Europe—up 15%—and Latin America. This was due to Oral-B's Dare to Change campaign.
Personal care business sales were flat in the US due to the end of a strong cough and cold season and lower sales of Prilosec due to higher competition from bigger healthcare companies like Pfizer (PFE).
Initiatives to grow the health care segment
Going forward, P&G plans to invest heavily in new product development. According to Kantar's Brand Footprint report, Oral-B demonstrates the first real collaboration between FMCG (fast-moving consumer goods) and technology. Alan Lafley expects strong sales growth with two premium-priced properties in Pro-Health and 3D White. They already have annual sales of over $1 billion each.
Also, the company plans to grow its base in emerging markets that will benefit in profit growth and strong cash flow productivity.
P&G has exposure to the SPDR S&P 500 ETF (SPY). It accounts for 1.10%[1. Updated as of August 3, 2015] of the total weight of the portfolio.