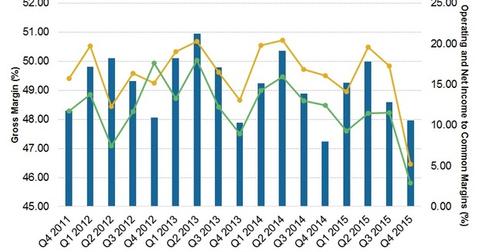 Why P&G's CEO Is Focused on Value Creation over Growth
By Penny Morgan

Aug. 13 2015, Updated 6:05 p.m. ET
P&G's profitability in 4Q15
At the 4Q15 earnings call, Procter & Gamble's (PG), or P&G, CEO Alan Lafley repeatedly emphasized the company's focus on "value creation" and "sustainable growth" for its multiple brands and segments.
P&G reported a slight improvement in the core gross margin in 4Q15. The company's core gross profit margin rose 1.10% to 48% in 4Q15—compared to 4Q14. The core gross margin excludes incremental restructuring charges. The margin rose despite investments made in product innovation and the supply chain.
Article continues below advertisement
The operating margin for 4Q15 was reported at 5.20%—compared to 16.10% in 4Q14. This included the Venezuela charge of 11.40%. It was the main reason behind the fall in the operating margin. However, excluding all of the charges, the core operating margin rose 0.90% to 18.10% in 4Q15 compared to 4Q14. The core margin's rise was due to productivity savings.
The SG&A (selling, general, and administrative) expenses, as a percentage of sales in 4Q15, fell 0.10% to 31.30%. Core SG&A expenses, as a percentage to sales, rose 10 bps (basis points) to 31%.
Innovation and strengthening the supply chain
As we mentioned earlier in the series, the company will continue to invest in upstream innovation, pipeline, and recent launches of products like Tide PODS, Pampers Pants, Gillette FlexBall, and Venus Swirl. This will help the company create and build market share.
P&G also continues to strengthen its supply chain, including starting up six new mixing and distribution centers in North America, according to comments by P&G's CFO Jon Moeller.
Emphasis on value creation and cash
Despite the weaker top line, P&G is placing emphasis on driving value creation and cash. This makes P&G one of the strongest cash generators among its competitors and mega cap companies like Unilever (UL), Colgate-Palmolive (CL), and Kimberly-Clark (KMB). P&G generated $11.6 billion in adjusted free cash flow with 102% adjusted free cash flow productivity.
However, P&G and Colgate-Palmolive's cash flows have fallen according to their results. P&G's free cash flow fell ~0.70% to $2.7 billion for 4Q15, while Colgate-Palmolive's free cash flow fell ~79% to $0.3 billion for 2Q15. However, Kimberly-Clark's free cash flow for 2Q15 rose ~150% to $0.5 billion[1. Fiscal year end for Procter & Gamble is June 30, 2015, while for Colgate-Palmolive and Kimberly-Clark it's December 31, 2015].
P&G has exposure to the SPDR S&P Dividend ETF (SDY). It accounts for 1.40%[2. Updated as of August 3, 2015] of the total weight of the portfolio.