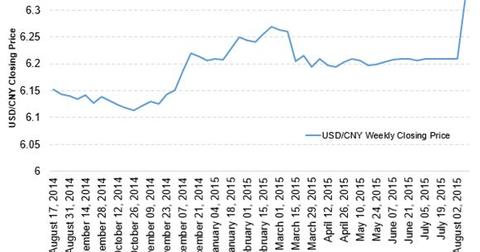 The People's Bank of China Surprises Currency Markets
By David Meyer

Updated
The People's Bank of China devalues currency
The Chinese yuan depreciated by 1.8% on August 11, 2015, as the People's Bank of China (PBOC) aimed to boost the depressed economy and push exports. The Chinese yuan is pegged to the US dollar and allowed to fluctuate within a bandwidth of 2%, defining its upper and lower limits beyond the reference rate. With competition growing from its peers in Asia, the PBOC decided to increase the tightly controlled peg with the US dollar to 6.2298 per dollar.
Article continues below advertisement
Reference rate determination changes
The central parity rate that the yuan oscillates around had been decided by the central bank. However, with a stance of maintaining a market-based exchange rate, the bank will determine the midpoint reference rate every day on the basis of the previous day's closing price. The move could be a push for the Chinese yuan into the elite category of currencies that are part of a global asset reserve called special drawing rights (or SDR), which the International Monetary Fund (IMF) maintains. The SDR is currently a basket of foreign exchange reserves that can be exchanged for the US dollar, euro, pound sterling, or Japanese yen.
Impact on market
Reacting to the news, other Asian currencies sharply depreciated. There was a downtick in the iShares China Large-Cap ETF (FXI) of 1.30% while the iShares MSCI China ETF (MCHI) posted similar fall of 1.24%
Chinese American depositary receipts (or ADRs) also reacted negatively to the devaluation news. Software company ADRs 58.com (WUBA) and Baidu (BIDU) plunged by 5.41% and 5.04%, respectively. The online retail giant Alibaba Group Holding Limited (BABA) fell by 3.89%.