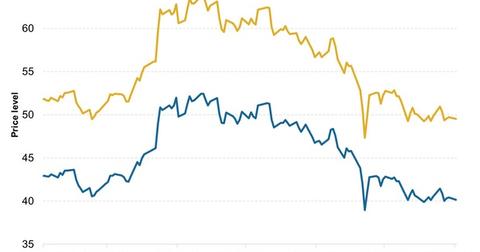 An Overview of Developments in China in the Last 3 Months
By David Ashworth

Updated
A fall in Chinese equities
Fatigue after running a marathon is natural. But when this happens to China, it has a global impact. Apart from investors who have significant and direct investments in China, either via equities or in business terms, the worry is not so much about China. The concerns address the impact that a correction in Chinese equities and a slowdown in the Chinese economy can have on other nations.
Reactions to the impact of China's recent developments on investments ranged from barely a shrug to a bloodbath. This series examines investments focused on Asian nations that have close ties with the regional heavyweight. How rough has this ride been for them, and what does it mean for your investments in these nations?
Let's take a brief look at the developments in China in the past several months.
Article continues below advertisement
Chinese equities
The laws of physics demand that a fall follows a rise. Financial markets have also proven this theory throughout history. What makes financial markets interesting is that no one can predict when the fall will occur.
When the Shanghai Composite ended at 5,166 on June 12, no one could predict that it would be a while before the index witnessed that level again. Until mid-June, stocks like 58.com (WUBA), E-Commerce China Dangdang (DANG), and Alibaba Group Holding (BABA) were enjoying the upward ride.
But when equities fell, they took the entire market with them. The iShares China Large-Cap ETF (FXI), which is invested in 52 stocks, fell 20.2% from mid-May until August 17. The iShares MSCI China ETF (MCHI), which is invested in 146 stocks, is down 19.1% in the same period.
Chinese equities were not the only ones that made headlines—the Chinese yuan did too. We'll look at the reasons in the next article.