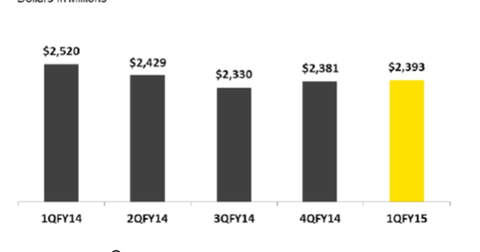 Operating Expenses Decrease for Sprint Corporation in 1Q15
By Adam Rogers

Updated
Cost of services
In 1Q15, the cost of services for Sprint Corporation (S) was $2.4 billion, a decrease of $127 million on a year-over-year (or YoY) basis mainly due to lower wireline international voice volumes and rates, as well as lower wireless postpaid roaming expenses.
Article continues below advertisement
Cost of products
Sprint's cost of products for 1Q15 declined $793 million YoY to $1.4 billion and $462 million QoQ due to lower non-lease sales volumes. This occurred because customer preferences shifted toward device leasing options.
Selling, general, and administrative (or SG&A) expenses for 1Q15 stood at $2.2 billion, a decline of $97 million and $144 million on a YoY and QoQ basis, respectively. According to Sprint, the YoY decline in SG&A expenses was due to lower bad debt expense as its customer credit profiles improved. Its QoQ expenses declined due to overhead reductions.
Depreciation and amortization
Expenses for depreciation and amortization in 1Q15 were $1.6 billion, which increased by $307 million YoY and $134 million QoQ. This was primarily due to the depreciation of devices associated with the firm's leasing options introduced in September 2014. Leased device depreciation was $276 million in 1Q15, compared to $150 million in 4Q14.
EBITDA increases 14% YoY
Sprint's adjusted earnings before interest, tax, depreciation, and amortization (or EBITDA) amounted to $2.1 billion in 1Q15, compared to $1.8 billion and $1.7 billion in 1Q14 and 4Q14, respectively. Adjusted EBITDA increased by 14% YoY as the reduction in expenses more than offset the decline in revenues.
A Sprint news release notes, "In spite of additional costs related to higher retail sales volumes, total expenses improved primarily due to lower cost of product expenses related to the introduction of device leasing options for which the associated cost is recorded as depreciation expense over the term of the lease, lower cost of service expenses on the wireline network, and lower wireless bad debt expense as a result of a higher mix of prime credit quality customers."
EBITDA for AT&T (T) and Verizon (VZ) for the quarter ended June 30, 2015, grew by 8.2% and 3.78%, respectively.
Sprint Corporation (S) comprises 0.01% of the iShares Russell 1000 ETF (IWB) and 0.03% of the iShares Russell 1000 Value ETF (IWD).