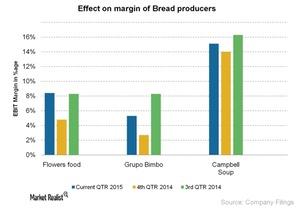 Onset of the El Niño Event
By Sushree Mohanty

Aug. 14 2015, Updated 9:52 a.m. ET
Positive global wheat production
Wheat sales have been impacted positively, as the onset of the El Niño event has affected the wheat yields in Australia and Europe, which pushed buyers to the American market. According to the Organization for Economic Cooperation and Development (or OECD) and the Food and Agriculture Organization (or FAO) of the United Nations, global wheat production is projected to increase to 786.7 million tons by 2024 from the average output of 700 million tons in 2014.
Bread producers like Flowers Foods (FLO), Grupo Bimbo, and Campbell Soup (CPB) also saw improved operating margins of around 2%–4% since the last quarter of 2014. The main reason for this pointed to low input costs such as low grain wheat prices and stable demand.
The Consumer Staples Select Sector SPDR ETF (XLP) holds 0.59% of CPB and 3.07% of one of its major competitors, Mondelez International (MDLZ). The SPDR S&P 500 ETF (SPY) holds 0.05% of Campbell stock and 0.19% of General Mills (GIS). Let's look at some other commodities.
Article continues below advertisement
Price decline of other commodities
However, lower energy prices and secondary input prices may help producer margins in the upcoming quarter due to a decrease in electricity and transportation cost.
The current price decline for grains, coffee, sugar, and palm oil has made the demand stable with high inventories. Crude oil and natural gas have also shown a decline of ~40%.
El Niño signals a reverse trend this year
El Niño is a weather event where there is an interface of ocean-atmosphere climate on a massive scale, leading to waters in the equatorial Pacific to be warmer than usual for a certain period. It has a disturbing effect on weather patterns and ocean conditions around the world. Its consequences include heavy rainfall and floods in the southern US, as well as a drought effect on parts of Australia and Asia.
The El Niño effect is predicted to range from moderate to strong this year, which signals a reverse trend of a price increase of coffee, chocolate, sugar, and other staples. Predictions also say that prices of a few products might double this year. Coffee could show a price increase of ~107% and soybeans could increase nearly 37%.
According to a climate researcher at the University of Reading, the phenomenon of a strong El Niño event this year could disrupt global food markets.