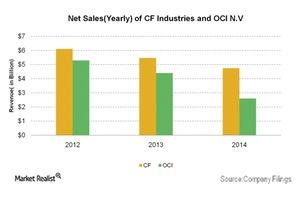 OCI and CF to Create the Largest Publicly Traded Nitrogen Company
By Sushree Mohanty

Updated
Strategy to create global nitrogen leader
CF Industries Holdings (CF) and OCI (OCI) announced on August 6, 2015, that they have entered into a definitive agreement under which CF will combine with OCI's European, North American, and global distribution businesses in a transaction valued at approximately $8 billion, based on CF's current share price, including the assumption of approximately $2 billion in net debt.
As per the company press release, the transaction, which has been unanimously approved by the board of directors of both companies, will create the world's largest publicly traded nitrogen company. The transaction includes OCI's nitrogen production facilities in the Netherlands and in Iowa, as well as the company's interest in an ammonia and methanol complex in Beaumont, Texas. The transaction also includes the global distribution business based in Dubai.
Article continues below advertisement
The combined entity will also purchase a 45% interest plus an option to acquire the remaining interest in OCI's Natgasoline project in Texas, which upon completion in 2017, will be one of the world's largest methanol facilities. On a combined basis, the company will have a production capacity of approximately 12 million nitrogen-equivalent nutrient tons by the middle of 2016.
Tony Will, president and chief executive officer of CF Industries Holdings, stated, "This is a terrific opportunity for the shareholders of both companies, with mid- to high-teens cash flow accretion. This is also a great outcome for U.S. farmers as we have another supply point that will ensure our critical products are delivered reliably and in time to meet our customers' needs."
About OCI
Based in the Netherlands, OCI is a global producer and distributor of natural-gas-based fertilizers and industrial chemicals  The company produces nitrogen fertilizers, methanol, and other natural-gas-based products, serving agricultural and industrial customers from America to Asia.
CF Industries rivals also include commodity-trading firm Archer Daniels Midland Company (ADM) and multinational American giant Dow Chemical Company (DOW). Dow Chemical Company (DOW) recorded a positive year-to-date return of 0.20%, while Archer Daniels recorded -9.83%. The SPDR S&P 500 ETF Trust (SPY) invests 0.16% in ADM and the First Trust Consumer Staples AlphaDEX Fund (FXG) invests 3.94% in ADM.
Now let's look at CF Industries' second quarter performance.