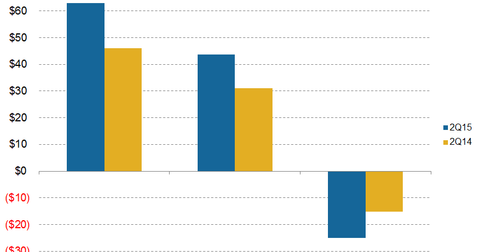 Nexgate and Hootsuite See 300% Growth in Joint Customers
By Adam Rogers

Updated
Proofpoint, a next-generation security company
Proofpoint (PFPT) is a company in the next-generation security and compliance segment. On June 4, 2015, Proofpoint announced that Nexgate, its social media security division, and Hootsuite have gained solid momentum in the last year. The companies saw 300% growth in joint customers for social media engagement and security.
Nexgate is a division of Proofpoint that provides cloud-based security and compliance solutions for social media. Hootsuite is a leading social relationship platform with more than 8 million users. Hootsuite has customers all over the world that are exposed to a plethora of risks, including abusive or offensive content, spam, malware, regulatory compliance, brand hijacking, and account hacks. Hootsuite partnered with Nexgate in 2013 to address these threats and make Nexgate's leading brand protection and compliance solution available to Hootsuite customers.
The Nexgate partnership with Hootsuite ensures key technology integration, which has been successfully implemented for customers including Epson, Interactive Brokers, and William Blair.
Article continues below advertisement
Kevin Zellmer, Global Director Enterprise BD for Hootsuite, stated, "The joint customer growth with Proofpoint Nexgate in the last 12 months demonstrates need for a solution that combines social media compliance, policy management and security. This tremendous customer growth proves that organizations need a best-of-breed solution to help them safely and compliantly achieve maximum social media growth, ROI and scale. Proofpoint Nexgate provides a unique solution that enables our customers to meet the demand for both security and compliance in one platform."
Proofpoint announces 2Q15 results, beats analyst estimates
On July 23, 2015, Proofpoint announced its 2Q15 results. The company reported revenues of $63 million, a 37% increase compared to 2Q14 revenues of $46 million. Gross profit increased to $43.7 million in 2Q15 from $31.1 million in 2Q14. GAAP (generally accepted accounting principles) gross margin was 69% compared to 67% in 2Q14.
Proofpoint's operating loss rose from $12.2 million in 2Q14 to $21.4 million in 2Q15. Net loss reported for 2Q15 was $25 million compared to $15.1 million in 2Q14. EPS (earnings per share) on a non-GAAP basis was -$0.09. On a GAAP basis, EPS stood at -$0.63.
Gary Steele, chief executive officer of Proofpoint, commented, "Our strong second quarter results highlight the ongoing global demand for our advanced threat solutions. Our ability to meet or exceed expectations during the quarter resulted from the combination of strong competitive win rates, robust add-on activity, and consistently high renewal rates."
Proofpoint is expected to increase market share globally as companies continue to prefer Proofpoint's cloud-based data protection solutions and its capability to handle advanced security threats.
Proofpoint has gained 77.62% in the TTM (trailing 12-month) period. In comparison, peer companies FireEye (FEYE) and Check Point Software Technologies (CHKP) gained 31.58% and 18.62%, respectively, in the same period.
Proofpoint comprises 4.29% of the PureFunds ISE Cyber Security ETF (HACK) and 0.10% of the iShares Russell 2000 ETF(IWM).