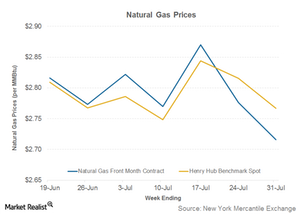 Natural Gas Prices Continue to Fall, Coal under Pressure
By Mike Sonnenberg

Updated
Natural gas prices
Despite the lower-than-expected inventory addition, natural gas prices fell marginally again during the week ended July 31 as inventories remained elevated, surpassing the five-year average. The US Energy Information Administration (or EIA) projected a tenth straight year of annual growth in natural gas production, adding to already ample supply.
Henry Hub benchmark natural gas prices came in at $2.77 per MMBtu (million British thermal units) on July 31 compared to $2.82 on July 24.
The natural gas front month futures price, which gives you an idea of market expectations for near-term natural gas prices, fell to $2.72 per MMBtu on July 31 compared to $2.78 per MMBtu on July 24. This implies that the markets expect natural gas prices to fall further.
Article continues below advertisement
Why are these indicators important?
The shale gas boom led to a massive rise in the production of natural gas, which in turn spurred a drop in natural gas prices. As a result, natural gas became a competing fuel for coal. Cleaner, more competitive natural gas ate the away market share from coal in electricity generation. This trend continues.
Natural gas prices and coal's market share in electricity generation are related. When natural gas prices rise, coal gains market share. It becomes more economical to burn coal for power generation. A fall in natural gas prices generally leads to a fall in coal's market share because natural gas is available at cheaper rates.
Impact on coal and utilities
A fall in natural gas prices is negative for coal producers (KOL) like Alliance Resource Partners (ARLP) and Natural Resource Partners (NRP). With a drop in prices, natural gas becomes cheaper, making utilities prefer burning natural gas over coal and pressuring coal producers.
For utilities (XLU) like Dynegy Corporation (DYN) and Edison International (EIX), the impact depends on the level of regulation. For regulated utilities, the impact is generally negligible, as the fuel cost is part of their tariff calculation. Natural gas–fired power plants supplying electricity at fixed price contracts benefit from the fall in natural gas prices.