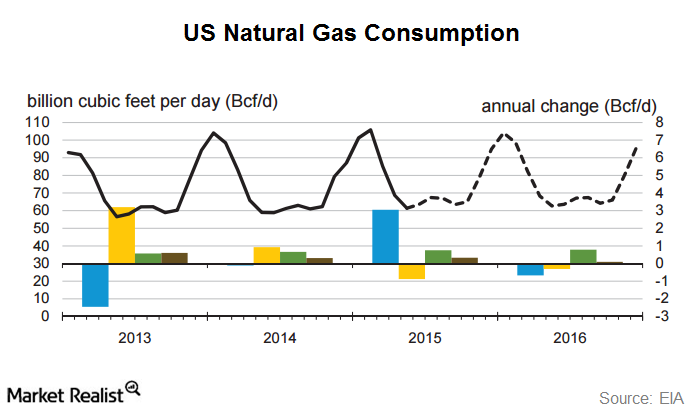 Natural Gas Consumption Weakens: Will the Trend Continue?
Natural gas consumption
In the week ended August 5, total US natural gas consumption fell 0.7% week-over-week. Total power sector consumption of natural gas fell 0.6% that week. We'll look at trends in electricity generation in the next part of this series.
In the industrial sector, weekly consumption fell by a slight 0.1%. The residential and commercial sectors' consumption fell by 0.8%.
Lower natural gas consumption is bearish for natural gas prices (UNG), which is bearish for gas producers such as Devon Energy (DVN), Southwestern Energy (SWN), Range Resources (RRC), and QEP Resources (QEP). These companies make up 2.3% of the iShares U.S. Energy ETF (IYE).
Article continues below advertisement
Natural gas consumption forecasts for 2015 
In its latest "Short-Term Energy Outlook," released on July 7, the EIA (U.S. Energy Information Administration) forecasts that total natural gas consumption will average 76.5 Bcf (billion cubic feet) per day in 2015 and 76.4 Bcf per day in 2016, compared to an estimated 73.5 Bcf per day in 2014.
The EIA forecast assumes that greater consumption in 2015 will result from increased demand from the industrial and electrical power sectors. Demand from the power sector is forecast to grow 12.9% in 2015. It's then expected to fall 2.7% in 2016. Lower natural gas prices are expected to result in increased natural gas consumption for electricity generation in 2015.
The EIA will release its next STEO on August 11.
Natural gas is the second-largest source of power for electricity generation in the United States, after coal. The EIA, however, forecasts that natural gas will surpass coal and become the largest source of electricity generation by 2035. In April, natural gas briefly surpassed coal as the dominant fuel used in power generation.
In the next part of this series, we'll take a look at recent and long-term electricity generation and consumption trends.
Industrial consumption is forecast to rise 3.3% in 2015 and 3.9% in 2016 as a result of new industrial projects coming online, predominantly in the fertilizer and chemical sectors. Demand from the residential and commercial sectors is projected to fall in 2015 and 2016.