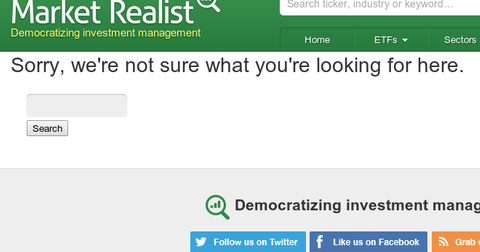 Why Mosaic Can Be More Competitive in the Fertilizer Industry
By Adam Jones

Updated
Beating estimates
Mosaic (MOS) is one of the major global players in the fertilizer industry. Mosaic reported its 2Q15 earnings on August 4, with earnings per share (or EPS) of $1.05. This beat analysts' estimates of $0.90, or a 16.8% surprise.
The company's shares increased 1.4% after the earning. However, year-to-date, the company has a -17% return. Competitors such as Potash Corp. (POT) have performed even worse, with a return of -30%, while Agrium (AGU) and CF Industries (CF) have performed considerably better, with year-to-date returns of 2.5%, and 9%, respectively. On the other hand, the VanEck Vectors Agribusiness ETF (MOO) returned -5.3% year-to-date.
[marketrealist-chart id=613680]
Article continues below advertisement
In this series, we will discuss some of the key developments that took place at Mosaic during the second quarter as well as discuss the outlook for Mosaic. First, we will look at Mosaic's top line and see how the phosphate and potash segment performed during the quarter. Then we will look at factors that impacted the top line.
Company overview
The Mosaic Company produces and markets potash and phosphate crop nutrients to customers in 40 countries. The majority (55% in 2014) of Mosaic's operating earnings were derived from phosphate fertilizer segment, and the rest was derived from the potash segment.
The phosphate products include DAP (diammonium phosphate), MAP (monoammonium phosphate), and a value-added product called MicroEssentials. The company's phosphate facilities are located in Canada, the US, China, India, Brazil, and Paraguay.
Potash products include Red Muriate of Potash (or MOP) in standard and granular grades and White MOP. The potash segment facilities are mainly located in the US and Canada.